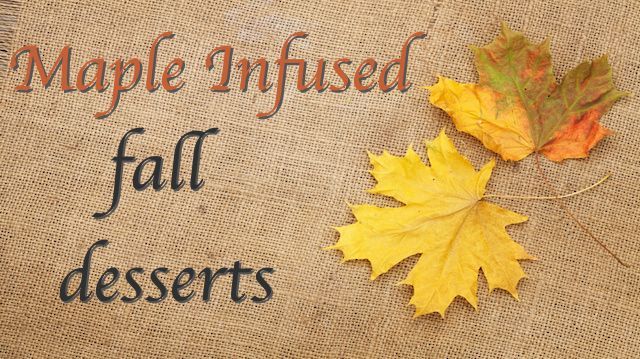 When it comes to desserts, learning to say no is a useful skill. However, sometimes you just need to sink your teeth into something warm and spicy. Warm fruit, infused in maple syrup and a hint of spice is relatively guilt-free — and there's nothing like it on a cool, fall evening.
Although the cooking of apples and pears can affect heat-sensitive nutrients, the nutritional value of each is still relatively similar to fresh fruit. In addition, poached and baked fruit is easier to digest for people with sensitive digestive tracts.
The key to eating healthy desserts is to avoid processed sugars and choose instead a natural sweetener that is pure and free of any coloring or additives. 
Maple syrup is boiled down from tree sap, which is harvested from the maple tree at the end of winter. Unlike processed white sugar, pure maple syrup is unprocessed. Since maple syrup is not processed, it retains beneficial minerals including calcium, potassium, sodium and copper. However, if you use maple syrup, make sure you're actually buying pure maple syrup — not an artificially-flavoured brand loaded with refined sugar or high fructose corn syrup.    
Poached Pears with Red Wine and Maple Syrup
Cook Time:
30 to 40
minutes
Poaching pears couldn't be easier. Poaching is a gentle, stove-top cooking method that ensures the pears retain their shape and texture, while infusing them with intense flavor. Pears are a good source of dietary fiber and a good source of copper, vitamin C, and vitamin K.
4

firm organic pears, peeled

1

cup

red wine (cabernet, sauvignon or syrah)

1/2

cup

freshly squeezed organic orange juice

1/3

cup

maple syrup

1

cinnamon stick

4

whole cloves
Remove cores from pears using an apple corer — keeping pears whole and intact. Combine the red wine, freshly squeezed orange juice, maple syrup, cinnamon stick and cloves in a medium saucepan.

Add pears to the saucepan and bring liquid to a boil. Reduce to a simmer.

Simmer pears for 15 to 20 minutes, turning occasionally, until pears are soft, but not mushy. Remove pears with a slotted spoon.

To make the sauce, discard the cinnamon stick and cloves, and bring the liquid to a boil for 15 to 20 minutes until it reduces to approximately three-quarters of a cup.

Place one pear on each plate and drizzle with the sauce.
Baked Apples with Maple Syrup
Cook Time:
1
hour 20 minutes
Baked apples are an old-school favorite and relatively easy to make. They're also a good source of potassium — a mineral not affected by cooking.
4

large organic apples

3/4

cup

maple syrup

1/2

cup

walnut pieces

1

teaspoon

cinnamon

1/2

teaspoon

nutmeg

1/4

cup

golden raisins

2

tablespoons

coconut oil
Preheat oven to 400 degrees Fahrenheit. Remove the cores of the apples using a paring knife or apple corer, and trim a quarter-inch slice from the bottom of each apple so that they sit flat.

Place the apples in an ovenproof baking dish.

Drizzle each apple with the maple syrup. Mix the walnuts, raisins and spices together in a small bowl. Divide the mixture among the apples, spooning the filling into the center of the apples.

Dot each apple with the coconut oil, and bake until tender, approximately 40 to 50 minutes.

Reserve the liquid from the baking dish. Pour the liquid into a small saucepan. Bring the liquid to a boil over a medium heat and cook the sauce until slightly thick — 2 to 3 minutes. Spoon the sauce over the warm apples and serve with ice cream, if desired.
With these healthy, guilt-free desserts, you can satisfy your sweet tooth this fall and winter, while also providing your body with essential nutrients for optimal well-being.
—Katherine Marko