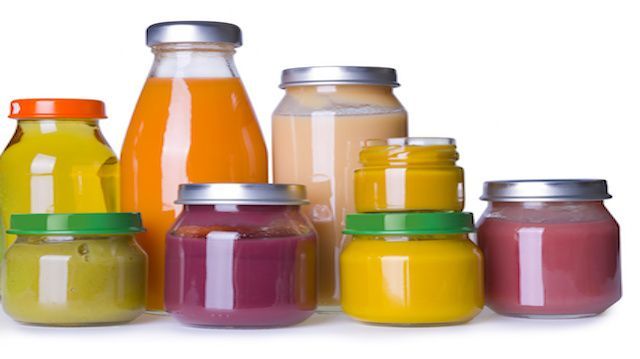 Many of us tend to follow recipes exactly when baking, but making a few creative changes can improve our health and our goodies! One of the easiest, most inexpensive "hacks" in baking is to use jars of organic baby food.
The many benefits of baking with baby food
Healthy convenience foods
Baby food carrots, prunes, squash, bananas, pumpkin, and apples are just like applesauce and canned pumpkin; they can be used to replace eggs, oil, and sugar in a recipe, and they can be highly convenient if you don't want to spend the time cooking and mashing all those ingredients yourself. 
This is also an easy way to improve the sweetness, flavor, and texture of a baked good without adding many calories. Baby food veggies and fruits are high in natural sugars and complex carbs — and if you get high-quality organic varieties, most have no additives. Just be sure to check the label! 
Baby food is cheap, healthy, and handy to keep in your pantry… what more could you ask for!
Plant-based and allergy-free 
If you're vegan, a plant-based eater, or have an egg allergy or intolerance, baking without eggs can be a challenge at first. Baby food comes to the rescue here as well. 
Typically, bananas, prunes, and pumpkin are the best options, since they are firmer in texture than applesauce, carrots, and butternut squash — though you can use any of these and adjust the other ingredients in a recipe if needed. Normally, a quarter cup of bananas, pumpkin and prunes can replace one egg.
Just be sure you use at least 1 teaspoon of baking soda in your recipe so the baked goods rise well. These ingredients also add moisture and sweetness, and allow you to eliminate the oil in a recipe if you wish.
If you have IBS, these foods are also great since they're easy to digest and much gentler on the body than eggs or oil, which can be problematic for some people.
Great sugar substitute
You can also eliminate the sugar in a baked good recipe if you choose bananas, prunes, carrots, apples and applesauce, or apple butter. The results are even better if you use a mixture of these instead of just one. The fibers in baby food act as a binding agent to produce a firmer baked good, which is great when you're not using eggs.
I like to make a loaf cake with bananas, apple butter, applesauce, and prunes. I use no sugar, oil, or eggs, and my family can't even tell!
Other ideas include the following: 
Carrots, butternut squash, and pumpkin with applesauce in a loaf cake

Prunes, apples, and pumpkin in muffins

Prunes and pumpkin in a cake recipe

Applesauce or apples with squash in a cake recipe

Carrots, apples, and pumpkin in a dessert of any kind
Just don't forget… 
When you bake with baby foods, you'll need to be sure to add a final binder such as chia or flax. I simply use 2 tablespoons of ground flax seeds with my dry ingredients, as well as 1 teaspoon of baking soda to help the baked goods rise. If you're making a smaller portion (for 6 instead of 10–12, which is standard for many recipes), reduce the ingredients to suit your needs. 
You can also use these healthy ingredients to flavor oatmeal, smoothies, soups, and more.
Here's a fun recipe to start with:
2.5

cups

rolled oats

6-ounce

jar

of carrots

6-ounce

jar

of apples

1

mashed banana

6-ounce

jar

of prunes

1/4

cup

dried, unsweetened cranberries or raisins

2

tbsp

ground flax

1

tsp

cinnamon

1

tsp

pure vanilla extract
Mash all the ingredients together in a bowl thoroughly, and form into small balls. You don't need to add baking soda here since they don't need to rise; they're more like breakfast cookies and not a baked cake.

Place the balls on a nonstick pan and bake at 350 degrees Fahrenheit for 20 minutes.

Let them cool and enjoy, or store in the fridge for easy breakfasts and snacks all week long!
Baking with baby foods might seem odd at first, but they're really no different than opening a can of pumpkin or container of applesauce. Give them a try and play around with different ones to see how much you enjoy them! 
Do you bake with baby foods? If so, do you have a favorite recipe to share?
—Heather McClees
Heather McClees is a professional health journalist and Certified Holistic Nutritionist from South Carolina.She received her B.S. Degree in Nutrition Science and Dietetics, and is most passionate about helping others discover the gift of of holistic health, showing others how to create healthy recipes based on their favorite foods, physical fitness and yoga, and creative writing.
Sources:
http://www.circleofmoms.com/money­saving­tips/using­jarred­baby­food­to­make­finger­ foods­712486
http://articles.latimes.com/1992­01­16/food/fo­138_1_baking­powder http://www.goldmedalflour.com/ourbakerblog/2013/august%202013/baby%20food%20 muffins http://www.healthline.com/health/food­nutrition/top­benefits­of­prunes­prune­juice http://www.whfoods.com/genpage.php?tname=foodspice&dbid=35