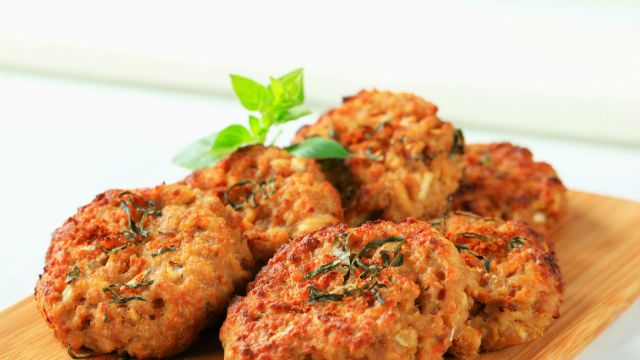 It can be hard to find a truly healthy veggie burger in the grocery store, but these recipes can help you put your own delicious – and even gluten-free – veggie burgers together this summer and beyond.
Keep in mind that for optimal nutrition and health, ingredients should be organic whenever possible.
The Cauliflower Burger
Ingredients:
1 head cauliflower
2 medium-sized carrots
½ cup ground sunflower seeds or walnuts
2 garlic cloves, minced
2 cups onion, minced
2 eggs
1 T tapioca starch
Directions:
Preheat oven to 325 degrees F. While waiting, shred cauliflower florets and carrots by pulsing in a food processor, and then spread them out onto a large baking sheet. Roast for about an hour, turning every 10 minutes to prevent burning. While the veggies are roasting, sauté onions and garlic lightly.
After all ingredients have cooked and cooled, combine them together in a mixing bowl and stir well. Form the mixture into four patties by pressing it between sheets of plastic wrap. Tuck in the sides in order to create uniform patties. Refrigerate for at least 30 minutes before cooking. When ready, cook over medium heat in a lightly oiled pan until browned.
The Black Bean Burger
Ingredients:
2 cups cooked black beans (approximately two 15 ounce cans, drained and rinsed)
¼ cup finely chopped green peppers
½ cup gluten-free oats
½ cup finely chopped red onion
1 large carrot, grated
1 egg
1 ¼ tsp. garlic powder
1 tsp. chili powder
1 tsp. cumin
½ tsp. paprika
½ tsp. sea salt
2 tsp. diced cilantro
Dash of turmeric
Directions:
In a large mixing bowl, mash together 1 ½ cups of the black beans, and then add the remaining ½ cup of beans. In a small bowl, combine dry spices and then pour over the bean mixture. Add all remaining ingredients and mix well. Form into 4 to 5 large hamburger patties and then grill on the BBQ as you would your typical burger. When patties are browned and start to crisp on the bottom, flip over and cook on the other side.
The Quinoa Burger
Ingredients:
1 ½ cups quinoa, rinsed
2 cups vegetable stock
½ cup tomato sauce
2 finely chopped kale leaves
1 T chopped fresh thyme
1 T chopped fresh oregano
1 T tomato paste
1 cup finely chopped shiitake mushrooms
2 T olive oil
Sea salt and pepper as desired
Directions:
Place the quinoa, vegetable stock, tomato sauce, kale, thyme and oregano in a pot on the stove and heat on high until boiling. Reduce heat to low, cover and simmer for 20 minutes or until liquid has absorbed.
Remove from the heat and stir in the tomato paste and mushrooms. Season with salt and pepper. Set aside until cool enough to handle. Form the mixture into 5-6 patties while heating the oil over medium-high heat in a skillet. Add patties and cook on each side for a few minutes until slightly crisp on the edges and well-heated throughout.
The Eggplant Burger
Ingredients:
1 large eggplant (or 2 medium eggplants), peeled and cubed
2 T coconut oil, divided in half
1 finely minced shallot
1 cup sharp cheddar cheese or vegan cheese shreds
1 minced garlic clove
½ tsp. sea salt
¼ tsp. black pepper
1 T fresh chopped parsley
1 cup gluten-free oats or gluten-free bread crumbs
Directions:
In a large skillet, heat one tablespoon of the oil over medium-high heat, add eggplant and sauté until browned and very soft, about 10-12 minutes. Transfer the eggplant to a large bowl and mash with a potato masher (or any other effective utensil) until there are no whole pieces left.
Next add the shallot, cheese, garlic, salt, pepper and parsley. Stir well and add oats or bread crumbs a little at a time until the desired texture is achieved. It should be firm so it will hold up like a regular burger. If it's too moist, add more oats or crumbs, but generally one cup is just right.
Place the mixture into the refrigerator for about a half an hour. When ready, divide it into four parts and then form it into patties. Now heat the other tablespoon of coconut oil over medium-high heat and add burgers to the pan. Cook until slightly browned on one side, and then flip and cook on the other side.
Lentil and Brown Rice Burger
Ingredients:
1/2 cup dried green lentils, rinsed
1/2 cup long grain brown rice
1 medium yellow onion, chopped
1 carrot, grated
4 garlic cloves, minced
3 tsp. ground cumin
1 tsp. ground sage
1 tsp. sea salt
1 1/2 cups water
1 cup vegetable broth
Directions:
Combine lentils, rice, onion, carrot, garlic, cumin, sage and sea salt in a saucepan. Add the water and vegetable broth. Cover, bring to a boil, and then reduce heat and boil gently until rice and lentils are tender and all the liquid is absorbed, about 40 minutes.
Drain in a colander to remove any excess liquid; cool slightly, and then process mixture in a food processor until mix is fairly smooth. Form into 6 burger patties. Grill on a BBQ like you would a traditional burger.
-The Alternative Daily
Sources:
http://blommi.com/paleo-veggie-burgers-gluten-free
http://www.momables.com/easy-black-bean-veggie-burger-recipe
http://www.onegreenplanet.org/plant-based-recipes/quinoa-veggie-burger
http://www.onegreenplanet.org/plant-based-recipes/the-vegan-eggplant-crunchburger
http://www.onegreenplanet.org/vegan-food/recipe-hearty-lentil-and-brown-rice-burger