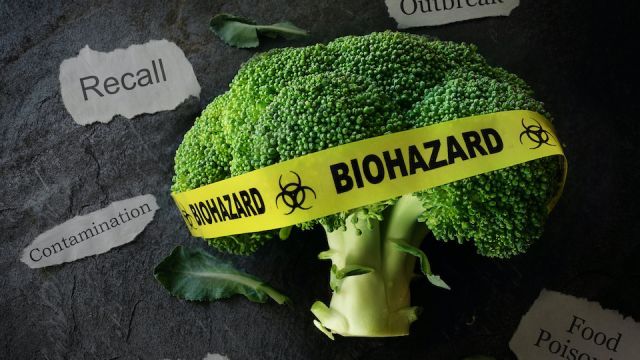 What's for dinner tonight? How about E.coli, Listeria, or Cyclospora? These "uninvited guests" could be hiding out in your fridge or pantry, just waiting to make you ill. While certain foods are more likely to make you sick, any food can get contaminated in the field, during processing, or other stages in the food production chain, including through cross-contamination with raw meat in kitchens. Sometimes this can lead to a food recall. Read on to learn more about food recalls and which contaminated foods you should avoid eating now.
What is a food recall?
A food recall is when a food producer takes a product off the market because there is reason to believe that it may cause consumers to become ill. In some situations, government agencies may request a food recall. Food recalls may happen for many reasons, such as:
Discovery of organisms, including bacteria such as Salmonella or parasites such as Cyclospora.

Discovery of foreign objects such as broken glass or metal.

Discovery of a major allergen that has not been listed on the product label, such as dairy or nuts.
Recent food recalls you need to know about
Hopefully, you've already heard about most of these food recalls. But just in case you haven't, here is all the info you need to keep you and your family safe. Check your fridge, freezer, and pantry for these recently announced recalled foods.
June 25, 2020: Enlightened Chocolate Peanut Butter Ice Cream from Beyond Better Foods – may contain undeclared milk ingredients

June 25, 2020: Signature Farms Garden Salad from Jewel-Osco – may be contaminated with Cyclospora

June 23, 2020: 7-Select Yogurt Pretzels from Mount Franklin Foods – may contain undeclared peanuts

June 23, 2020: Little Salad Bar Garden Salad from ALDI – may be contaminated with Cyclospora

June 22, 2020: Flagstone Foods North Star Sweet & Salty Caramel Trail Mix – may contain undeclared cashews

June 22, 2020: Hy-Vee Garden Salad – may be contaminated with Cyclospora

June 22, 2020: Gordon Choice Imitation Crab Supreme Style from Trident Seafoods – may contain undeclared egg white

June 19, 2020: Fresh Express Southwest Chopped Kit – may contain undeclared wheat, soy, cashews, and coconut

June 19, 2020: Hill Country Fare Pink Lemonade, Citrus Punch, Fruit Drink, and Grape Drink from H-E-B – may contain undeclared milk

June 12, 2020: Captain Rusty's Seafood Dips from Rusty's Seafood Market – may contain undeclared fish, shellfish, wheat, eggs, soy, and milk

June 12, 2020: Now Real Food Raw Macadamia Nuts from NOW Health Group – may be contaminated with salmonella

May 26, 2020: Johnson Sea Products Crab Cakes – may contain undeclared wheat and soy

May 21, 2020: Radhuni Curry Powder from New Hoque and Sons – may be contaminated with salmonella

May 15, 2020: Wegmans Semi-Sweet Chocolate Nonpareils from Mellace Family Brands – may contain undeclared milk

May 14, 2020: Peekaboo Mint Chocolate Chip With Hidden Spinach Ice Cream from Ramar Foods – may be contaminated with Listeria

May 11, 2020: Wild Harvest Organic Fresh Basil from United Natural Foods – may be contaminated with Cyclospora

May 8, 2020: Pluckers World Famous Wing Sauce from Zilk's Plus Resources – may contain undeclared milk, soy, and wheat

May 5, 2020: The Essential Baking Company Sliced Columbia Bread – may contain undeclared egg

May 4, 2020: Optavia Essential Old Fashioned Maple & Brown Sugar Oatmeal from Medifast – may contain undeclared milk

May 1, 2020: Nabisco Ritz Crackers from Mondelez Global – may contain undeclared peanut
What should you do if you've purchased a recalled product?
If the product details in a recall notice match the details on the food product you have at home, do not open or consume the product. Instead, do one of the following:
Return the product to the place of purchase for a refund.

Dispose of the product following the instructions provided in the recall notice to make sure no one will consume it.
A food product that has been recalled due to possible germ contamination or illness can leave germs around your kitchen and contaminate surfaces, including the drawers and shelves in your refrigerator.
If you've already prepared a recalled food item in your kitchen or still have it in your refrigerator, it's essential to throw out the food and clean your kitchen.
Wash all cookware and utensils (including cutting boards) with hot soapy water.

Clear off counters and refrigerator drawers and shelves and wash them with hot soapy water.

Then wipe any surfaces, shelves, or drawers and rinse dishes and cookware with a sanitizing solution and let them air dry. You can use a diluted bleach solution (1 Tbsp unscented, liquid chlorine bleach in 1 gallon of water).

Products recalled due to an undeclared allergen may be a risk for anyone in your household with an allergy to that substance. If the product has never been served, throw it away or return it for a refund. If the product has been served, wash with soap and water any surfaces – plates, pots and pans, utensils, and counters – with which the product may have had contact.
You may also need to clean your refrigerator after removing the contaminated product.
2020 foodborne outbreaks
When two or more people get the same illness from the same contaminated food or drink, the event is called a foodborne disease outbreak. According to the Centers for Disease Control and Prevention (CDC), there have already been three foodborne outbreaks in 2020 – these are listed below.
May-June 2020 Cyclospora Outbreak
As recently as June 23, officials have been investigating a multistate outbreak of Cyclospora infections linked to a bagged salad mix containing carrots, red cabbage, and iceberg lettuce purchased at ALDI, Hy-Vee, and Jewel-Osco stores in Illinois, Iowa, Kansas, Missouri, Minnesota, Nebraska, South Dakota, and Wisconsin. These salad mixes have been sold under the brands ALDI Little Salad Bar, Hy-Vee brand Garden Salad, and Jewel-Osco Signature Farms.
March-June 2020 Listeria Outbreak
For several months, recalled enoki mushrooms from H&C Food Inc., Guan's Mushroom Co., and Sun Hong Foods, Inc. have been found to be past their shelf life and should not be available for sale. This has caused 36 people in 17 states to get infected with the outbreak strain of Listeria monocytogenes. Four deaths have been reported from California (2), Hawaii, and New Jersey. This outbreak is believed to be over, with no new cases reported since early June.
January-April 2020 E.coli Outbreak
Between February and April, officials in several states investigated a multistate outbreak of E. coli O103 infections linked to clover sprouts. A total of 51 people infected with the outbreak strain of E. coli O103 were reported from 10 states. The outbreak was linked back to a common seed lot that was used to grow sprouts recalled by Chicago Indoor Garden and sprouts that were served at some Jimmy John's restaurant locations. These products were recalled, and the restaurants have stopped serving clover sprouts. Fortunately, the outbreak now appears to be over.
Concerned about infectious food? Remember to practice good food safety at home, and avoid known sources of foodborne illness when you're eating at restaurants – such as undercooked meat and seafood.
-Liivi Hess