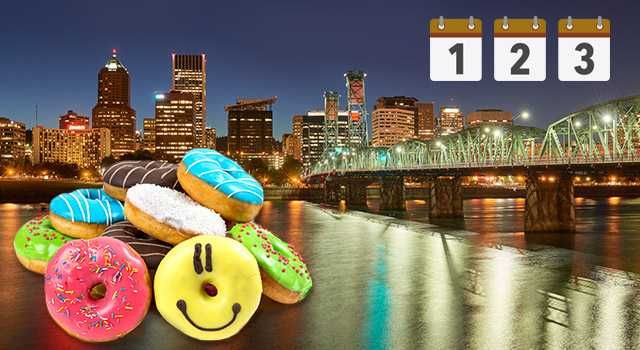 "Keep Portland Weird!" This is the motto and slogan by which many Portlanders live and that they embrace with a fiery passion. From the yearly World Naked Bike Ride ride to the unicyle bagpipe playing Darth Vader, from Beerfest to Blues Festival, Portland has it all. While I'm neither born nor raised in this great city, I do appreciate its quirks and charm, although I'll admit that I'd rather be a spectator during the Naked Bike Ride than to participate in it. 
I've called Portland "home" for 11 years. My husband and I raised our kids here, and now that they are teenagers, they love to be able to take the MAX (our local trains) into town when they want to. Public transportation makes getting in and out of the city a breeze especially now that Portland is growing by leaps and bounds.
Occasionally, we have visitors, whom we tend to take to all the same places around town, and each time we enjoy it as if it was our first. Let's start our three-day trip through Portland now!
Day One
Pittock Mansion
Henry and Georgiana Pittock were pioneers in Oregon. Henry was an editor, publisher and the founder of The Oregonian, our biggest local newspaper. Georgiana spent much of her time doing charitable work. She founded numerous charities, some of which are still around today, and she was the one who started rose competitions and is ultimately the person who made Portland the City of Roses.
Pittock Mansion overlooks the entire city of Portland, and on good days, Mt. Hood is visible in the distance. With its panorama window facing the city and (back then) state-of-the-art appliances, Pittock Mansion housed both Henry and Georgiana and many more of their family members. While not much of the original furniture remains at the mansion, it has been furnished according to the times. Pittock Mansion is surrounded by a large, beautiful garden and in the summer we like to bring a picnic blanket and eat our lunch on the grass in front of the mansion.
Salt & Straw
After a visit to Pittock Mansion, head on down Burnside to 23rd Avenue, where you can take a leisurely stroll and then stop for ice cream at Salt & Straw. A word of warning: this place attracts thousands of people on a warm and sunny day. Guests will quite literally line up around the block to get a taste of the unique flavors offered here. You may find some "Ancient Heritage's Lemon Curd and Whey," "Celery Root and Strawberry Celery Leaf Jam" or "Bourbon Distilled Cherry Ambrosia." Flavors change every so often, but if you don't feel terribly adventurous, there is usually a simple chocolate brownie or similar flavor available.
McMenamin's
In general, 23rd Avenue has a lot to offer. Boutiques, tea shops and restaurants line this busy street. If you're like me and my husband, you'll love a game of pool and a quick dinner to go with it. McMenamin's, a popular Northwest brand, has made it its mission to purchase old buildings and renovate them with unique pieces of art. Plus, they brew their own beer, too.
While you're there, you really don't want to miss those Cajun Tater Tots. I can eat those without anything added to them. McMenamin's also offers a variety of their own wines, if beer isn't your cup of "brew." Check the McMenamin's website for various restaurant and hotel locations around town. It is a one-of-a-kind experience.
Day Two
Multnomah Falls
You'll likely feel rested after your first day of eating and visiting a beautiful mansion. So pack a picnic, some water bottles and good shoes, then make your way out to Multnomah Falls, east on the I84. If preferred, take the scenic Historic Highway which takes you up to the Vista House that overlooks the Columbia Gorge. The scenic highway takes you past a number of waterfalls, some of which are located right next to the road, while others require a short hike in.
Once you arrive at Multnomah Falls, you'll have a couple of options. You can take the short hike up to the bridge or take the long hike to the top of the falls. This hike is just over a mile long, but it is an uphill trail with many switchbacks. Very young children should probably not take it on. I shamelessly bribed my then 8 and 10-year-old with ice cream after our return to the bottom.
Visitors can enjoy a gift shop and ice cream booth. Plus, lunch at the Multnomah Falls Lodge is definitely an experience. It's advisable to make reservations and be prepared for a bit steeper prices than McMenamin's.
Kennedy School
Speaking of McMenamin's, I recommend checking out Kennedy School in Northeast Portland. This old school was renovated and turned into a hotel featuring incredible architecture and the unique McMenamin's art. The classrooms and auditorium were turned into bars and a movie theater, and the hotel also features a full-size restaurant. Roam around, stay for dinner and for a few drinks. Maybe you'll even catch a movie to finish off a perfect day.
Day Three
Saturday Market and Waterfront
Let's assume it's Saturday or Sunday on your third day in Portland. Today it's time to visit the famous Portland Saturday Market, where local vendors sell their goods almost year round. You'll find plenty of "very Portland" fashion, silverware that's been turned into jewelry, purses, vases, knitted and crocheted hats and scarves, photography, paintings and lots of beautiful pottery. The Saturday Market is located on the north end of the Tom McCall Waterfront.
During the summer, the "Waterfront" as it is known to locals is a popular location for festivals throughout the summer. We usually spend hours there on our weekends. A variety of performers and artists attract visitors at the "Waterfront," and during the Saturday Market months, bands play for visitors. Grab a bite to eat from one of the many food carts, gyros being my personal favorite, and enjoy the music and friendly atmosphere.
Voodoo Doughnut
Just a short walk from the Saturday Market is one of Portland's biggest attractions: Voodoo Doughnut. This shop has dozens of varieties, from donuts covered in Fruit Loops to maple with bacon strips. Beware though, like Salt & Straw, Voodoo Doughnut attracts hundreds, if not thousands, of people every day. People will line up all the way out the door and down the sidewalk to get a taste of these weird donuts.
Rose Test Garden
Now, let's hop in the car and drive up to Portland's famous Rose Test Gardens. During the summer months, the roses will be in full bloom and you'll want to bring your camera with you. The Rose Test Garden has more than 7,000 rose plants with over 500 different varieties. It is also a popular location for weddings and, on some evenings, you'll even be able to attend free concerts or theater performances.
Japanese Garden
Located right above the Rose Test Garden is the Japanese Garden, yet another visit you should not miss. The beautiful manicured paths and plants invite visitors to calm their minds after stressful days. You can spend an hour there or several, admiring the zen garden, the koi ponds and the special featured art exhibits.
Kell's Irish Pub
I think it's become relatively clear that I am a bit of a foodie. So I'll suggest dinner at Kell's Irish Pub in downtown Portland. On the weekends, you'll often experience live music, and if there's an important soccer game going on, this is the place to be. Kell's offers a variety of beers, and my all time favorite meal is their Chicken Curry and Chips made with coconut milk and raisins. And it's served on top of fries, so how could you possibly go wrong? My daughter is a big fan of their bread pudding if you're looking for dessert.
Brody Theater
I will finish off this three-day adventure with an invitation to check out the Brody Theater on Burnside and Broadway. It's a hole-in-the-wall theater for all things improv. In my opinion, it is one of Portland's best-kept secrets. If you're into improv at all and you love to support local artists who pour their heart and soul into these performances, then the Brody needs to go on your list of "must-sees" in Portland.
There is so much to do in Portland, and much of it I don't even know about yet. But if you ever find yourself with three days to spare, then these places are a great way to get you started.
— Ute Mitchell