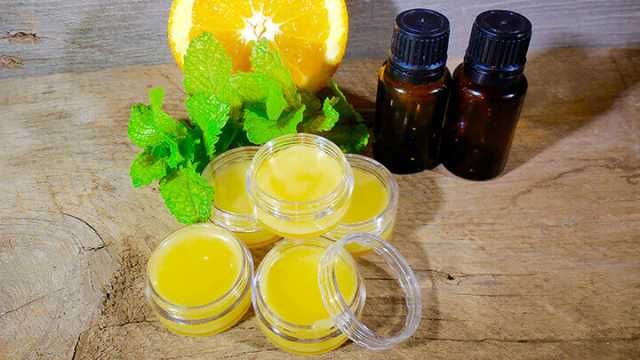 If you're looking for a soothing lip balm that has just the right feel to it, this recipe is for you. With just five ingredients, it's easy and doesn't take much time to make.
I love the way it makes my lips feel. It's also great knowing that this balm has ingredients that promote healthy lips. I reach for this balm when my lips are chapped, dry or cracked, and I'm consistently amazed at how fast they heal when I use it. 
I also enjoy having a few extra tubs of this balm in my gift stash for those unexpected birthdays that always seem to come up. My friends love receiving homemade gifts — they feel appreciated and pampered when I give them a tub of homemade lip balm.
Lip Balm Ingredients
2 tbsp beeswax

2 tbsp shea butter

2 tbsp coconut oil

30 drops peppermint essential oil

30 drops wild orange essential oil
Equipment
Small container of your choice with a lid
Instructions
1. Measure your oils and put them in a glass microwavable bowl.
2. Heat your oils, starting with 40 seconds at a time, until completely melted.
3. When your mix is completely melted, take out of the microwave and stir until the bowl is no longer hot to the touch. Add the essential oils and stir again.
4. Carefully pour the mix into containers. 
5. After they have cooled for 15 to 30 minutes, place the lid onto the container. Now place it in the refrigerator to harden. If it ever gets too soft or starts to melt, just pop it back in the refrigerator for a few minutes and it will harden right up.
— Leilani Hampton