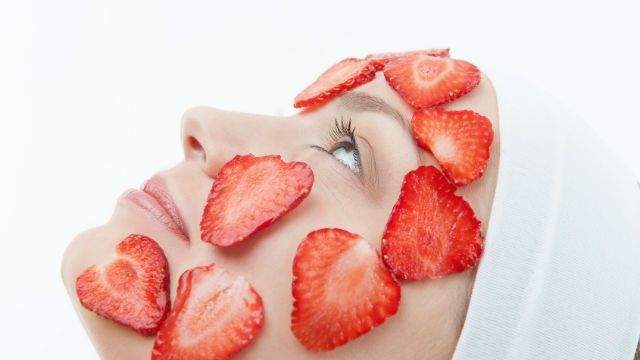 You already know that eating fruit is good for your health, and your complexion, but did you know that they can also serve as an ingredient in beauty creams to help improve the condition of your skin from the outside?
Different recipes take advantage of the vitamins, minerals, and wonderful scents of different fruits, such as the rich nutrients in strawberries which have been shown to fight acne.
Tangerines
Eating tangerines is a great way to improve your complexion as this juicy fruit is packed with vitamin C, an important antioxidant that helps to protect the skin from free radicals and slow the aging process. It can also help stimulate the production of collagen in the skin, which is what helps to make your skin more supple.
Tangerine juice is used in this recipe for a heavenly scented skin cream that will make your skin look and feel amazing.
Ingredients:
½ cup organic cream
1 teaspoon freshly squeezed organic tangerine juice
To make, all you do is pour the cream into a small mixing bowl and add the tangerine juice. Allow the mixture to curdle and lump (approximately 3 minutes) and then strain the liquid away using a strainer. Apply the creamy portion to your skin.

Peaches
Eating moisture rich peaches is a great way to eliminate dry skin. In fact, if you include a lot of peaches in your diet, you may not even need a moisturizing cream. If you'd like a little extra boost, this peach skin cream can work wonders.
Ingredients:
1 organic peach
4 drops benzoin essential oil (extracted from resin of the Styrax Benzoin tree)
2 ounces unrefined, organic virgin coconut oil
1 ½ ounces orange flower water
1 to 2 drops orange oil
Wash, drain, mash and then strain juice from the peach through cheesecloth. Add the benzoin essential oil, coconut oil, orange flower water and orange oil. Beat together until the mixture is fluffy and then pour it into a clean 4 ounce container. Store in the refrigerator.
Strawberries
Strawberries contain lots of antioxidants that can help repair skin and act as anti-aging agents, as well as help to protect your skin from environmental stress. You may have noticed that salicylic acid is one of the top active ingredients in almost every acne treatment. As strawberries naturally contain this substance, they're known to help remove dead skin cells that can clog your pores. They can also help eliminate acne and unveil smooth, radiant skin.
Of course, eating this deliciously juicy fruit is also well-known to be a great booster of overall health.
For those that have oily skin prone to acne, this strawberry beauty cream is a great one to make right at home.
Ingredients:
½ ounce white beeswax
1 ½ ounce sweet almond oil
1 ounce apricot kernel oil
4 to 5 large organic strawberries
8 drops benzoin essential oil
Wash, drain and mash the strawberries. Squeeze out the juice and strain through cheesecloth. Heat the beeswax and oils together in a double boiler until completely melted. Remove from heat and immediately add the strawberry juice. Beat mixture until fluffy, then add the benzoin essential oil and beat until the mixture has cooled.
There really is no reason to spend a ton on beauty creams found at the store when it's so easy to make your own right at home – and without toxic chemicals that could harm your skin and your health in the long run.
-The Alternative Daily.com
Sources:
http://www.stylecraze.com/articles/amazing-health-benefits-of-tangerine-fruit
http://www.newsmax.com/FastFeatures/fruits-for-skin-healthy/2011/01/19/id/383269
http://www.essentialoils.co.za/essential-oils/benzoin.htm
http://www.skincareguide.com/article/how-to-use-strawberries-or-strawberry-leaves-for-acne-treatment.html
http://allnaturalbeauty.us/hbr_hair_skin_body.htm