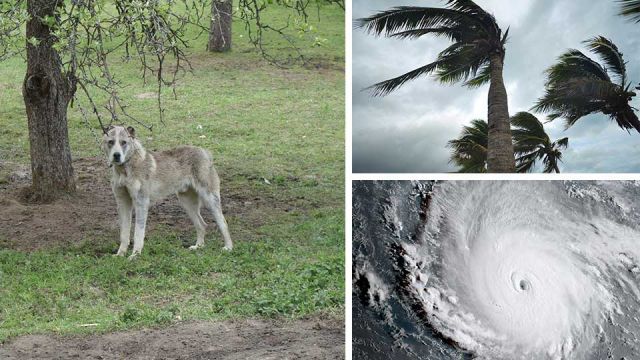 As Hurricane Irma nears Florida, Palm Beach County Animal Care and Control has been receiving reports of abandoned dogs chained up to trees and parked cars, with their owners nowhere to be found.
Neighbors calling in reports of abandoned animals
"We're getting a lot of calls into our communication section," Diane Suave, Director of Animal Control is Palm Beach County told WPTV. "We're already stretched thin, but we are sending our officers out to try to do what we can for these dogs and we will be removing them… There is absolutely no excuse to do such an atrocity."
According to a report, animal control officers have rescued 49 dogs and two cats in the last two days. Suave said that the department will pursue criminal charges against owners who abandoned their dogs and left them tied up or unable to escape the storm on their own.
Animal shelters overcrowded due to hurricane
Can't believe I'm saying this, there's people in PBC leaving their dogs chained to trees. County says they WILL prosecute. @WPTV #Irma pic.twitter.com/R6kuIulIgP

— Sam Smink (@samsminkWPTV) September 8, 2017
Animal rescue shelters around Florida and surrounding states are taking in hundreds of abandoned animals as Hurricane Irma draws ever closer to the coast, but many shelters are already overcrowded and refusing to take in additional pets.
If you're a pet owner in need of resources for your beloved four-legged pal, check out this list of pet-friendly shelters posted by the American Kennel Club. It contains information organized by county for Florida, Georgia, North Carolina and South Carolina.
In a press conference, Florida governor Rick Scott said that shelters are now open in every county in Florida, though not all may be pet-friendly. Currently 260 shelters are open, and 70 more are scheduled to open by Saturday evening. For more resources near you, see a running list of open shelters by county, posted by the Florida Division of Emergency Management.
New Miami shelter is pet-friendly
25,835 residents in @MiamiDadeCounty shelters. Highland Oaks — at capacity for residents buy still accepting pets.

— Mike Hernández (@HernandezMA5) September 9, 2017
If you're in the Miami area, Highland Oaks is still accepting pets. As of Saturday, there's also a new pet-friendly animal shelter located at Miami Lakes Educational Center and Technical College, according to the Miami Herald.
How to take care of a pet during a hurricane
For so many of us, cats and dogs are treasured members of the family, so the thought of abandoning them during a disaster is simply not an option. Here are a few tips on how to take care of your pets during an emergency from the Florida Division of Emergency Management and the Miami Herald.
1. Assemble a pet supplies kit. Make sure to include food, bottled water, medications, a medication list, sturdy leash, harnesses, pet carriers, current photos of your pet (in case they get lost), bowls for food and water, cat litter with a pan, can opener (if needed for canned food), a pet bed and toys.
2. Make sure all animals are wearing collars and tags. All tags should be up to date with current addresses and phone numbers, in case your pets get separated from you.
3. Keep your pet nearby at all times. As the storm approaches, pets will often seek small spaces to hide in, but there could be sharp objects or hazards in those nooks and crannies. Help alleviate your pet's anxiety by keeping them close by and secured in a pet carrier until the storm passes.
Remember: give your pets lots of love — chances are they are just as nervous as you during this time, even if they can't quite say it.
— The Alternative Daily