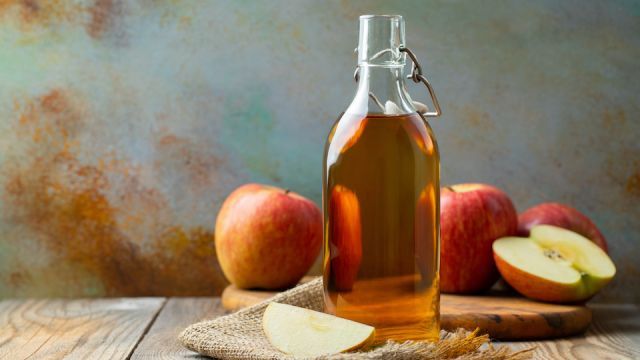 Anyone who's serious about their health is likely serious about getting their daily dose of apple cider vinegar. But while some people can easily down a shot each morning, others struggle with just a spoonful. Let's face it, you either love the taste, or you don't. If you do not love the sharp taste and aroma of apple cider vinegar, but are not willing to throw in the towel just yet, then try these five ways to get your daily dose.  
Diluted is best
Before we get into ingenious ways to ingest apple cider vinegar (ACV), remember, all kinds of vinegar should be diluted when consumed. Highly-acidic vinegar like ACV can do some severe damage to tooth enamel when sipped straight up, says Harvard Health. Your best bet, when ingesting ACV, is to have it mixed with food or diluted into a cocktail.
Pairing ACV with tonight's roasted root vegetables
Adding ACV to your root veggies is a great way to boost your digestive health. Mainly because of its probiotic effect. However, experts agree, sauteing or boiling your ACV with food will likely kill all the beneficial bacteria. However, adding a tasty dressing to sautéed root veggies is certainly an excellent way to ingest ACV.
Serves: 4
Ingredients:
2 Sweet potatoes or yams, peeled and cubed

2 Red or white potatoes, scrubbed and cubed

2 parsnips, scrubbed, core removed and cubed

2 beets scrubbed and cubed

1 large sweet onion, peeled and chopped loosely

3 large garlic cloves, peeled and chopped loosely   

Olive oil for drizzling

Salt and pepper to taste
ACV Dressing:
2 Tbsp olive or avocado oil

4 Tbsp organic, unfiltered apple cider vinegar

1 Tbsp Dijon mustard

1 Tbsp raw honey

1 shallot, finely minced

Himalayan salt and fresh ground pepper to taste
Instructions:
Preheat your oven to 425°F.

Heat your baking sheet in the oven for 5 minutes.

Toss all chopped root vegetables, onion, and garlic with olive oil and salt and pepper.

Spread vegetables on the heated baking sheet so they are not touching one another.

Roast for 20 to 30 minutes. Halfway through the cooking time, turn veggies and continue to bake until fork-tender.

Meanwhile, whisk together all ingredients for the dressing.

Remove roasted veggies from the pan and add to a large bowl, toss the hot roasted vegetables with the vinaigrette and serve immediately.
Add ACV to your morning smoothie
Bananas, apples, and cinnamon are a great way to hide the taste of ACV in your morning smoothie. ACV may even help you lose weight by helping you feel full, suggests research. Thus, reducing the amount of food you eat throughout the day.
Soothing ACV elixir
With cold and flu season around the corner and coronavirus coming in for a second wave, why not try this soothing immune-boosting elixir. Organic, cold-pressed ACV contains a matter called "must." Must is the broken apple piece that holds the "mother," (the colony of bacteria that work as probiotics when you consume them.) And of course, probiotics have an immune-boosting effect, according to research. This is why ACV advocates suggest drinking ACV to shorten the duration of a cold. ACV thins out phlegm in the throat and helps mucous move out of the respiratory system faster.
Serves: 1
Ingredients:
1/4 cup, filtered water

1/4 cup organic, unfiltered apple cider vinegar

Pinch of cayenne pepper

1/4 tsp turmeric

Pinch of black pepper

1 Tbsp raw honey

1/2 lemon, squeezed   
Directions:
Bring water to a boil and pour into a mug

Add ACV, cayenne, turmeric, pepper, honey, and lemon to the mug, and stir well to combine.
Energizing ACV and cranberry detox
After a night of too much sugar, booze, or processed foods, a detox made with apple cider vinegar can help revitalize you and get you back on the road to wellness. The idea behind the detox is that raw, unfiltered ACV with "mother" in it contains good probiotic bacteria for your gut health.
Serves 1
Ingredients:
1/2 cup organic, unsweetened cranberry juice

1 Tbsp apple cider vinegar, raw and unpasteurized

1 tsp raw honey or stevia

1/2 lemon, juiced

1/2 cup of filtered water
Directions:
Mix cranberry juice, apple cider vinegar, honey, lemon, and water.
ACV refrigerated pickles
Forget store-bought pickles. Jarring your own is easy, tasty, and loaded with ACV, which makes sense since pickles are normally made with vinegar. So why not use ACV? These crisp pickles are great for sandwiches, burgers, or simply snacking.
Makes one jar
Ingredients:
3 pickling cucumbers, sliced evenly —  about 4 inches in length

2 cloves garlic, smashed

1 tsp Himalayan salt

1/2 tsp raw honey

Pinch crushed red pepper flakes

3 sprigs fresh dill weed

1/2 cup organic, unfiltered apple cider vinegar

1/2 cup filtered water
Directions:
Pack a mason jar with sliced cucumbers

Add garlic, salt, honey, pepper flakes, and dill weed.

Mix apple cider vinegar and water, and pour over cucumbers.

Allow to sit in the mason jar overnight in the fridge. These pickles will last about one week in the refrigerator. Enjoy!
Many believe apple cider vinegar should be ingested daily for best health results. However, if a "one-shot" deal each morning isn't your cup of tea, then mix it up — literally.
But then again, if your sluggishness leaves you struggling with digestive issues, poor sleep, frequent sickness, and struggles with weight loss, then you may want to supplement with a high-quality probiotic as well. According to Dr. Joshua Levitt, one of the Nation's top Naturopathic doctors, a quality probiotic can improve your overall health and immunity and should be taken daily.
-Katherine Marko