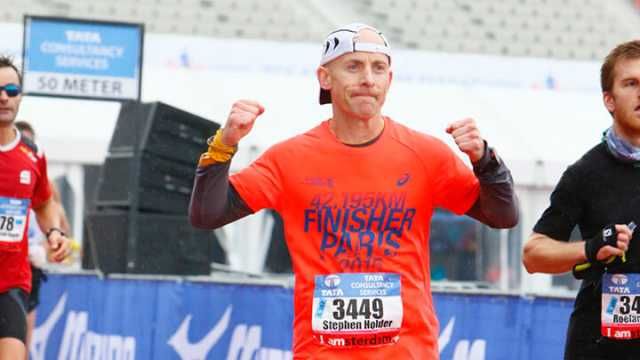 Losing a loved one is one of the hardest things we humans ever have to endure. When it happens, people deal with the loss in various ways. Some are positive, some are negative. Some help the healing process along and some can be destructive.
As loss is such a personal tragedy, one that nearly everyone experiences at some point in their lives, it is truly heartwarming to see someone infuse their grieving with something positive and charitable. Steve Holder, a 44-year-old firefighter from England, lost his wife, Sharon, to breast cancer last year. This year, he is running 20 marathons in her honor.
One for each year of marriage
Each marathon that Steve runs commemorates one year that he was married to Sharon. Some of these marathons have taken place, or are taking place, in the United States and his home country of England. His last marathon is scheduled for December 18 in Portsmouth, the hometown he shared with this late wife.
Holder told the New York Post, "I really didn't want this year to be about me. It's just a tribute to my wife. It really comforts me that she's being remembered."
So far, Holder has run 17 of the 20 scheduled marathons for this year. He has been pushing himself extremely hard to reach his goal. In May of this year, he completed three marathons in the span of three weekends, one after another. On this grueling challenge, Holder said, "I never knew how I was going to recover because I'd never done anything like this before. I think my body's got used to it now though."
Crowdsourcing for charity
During the course of this "marathon year" for Holder, he has been raising money for charity through crowdsourcing efforts. As of last reports, he has raised more than $7,300, which will be donated to three charities in the United Kingdom: Cancer Research UK, the Fire Fighters Charity and the Loss Foundation. Each of these charities is personally meaningful to Holder.
On the Loss Foundation, he explained that they helped him deal with his feelings after his wife passed."They get a lot of people together that are in the same situation, so you can talk about common experiences," said Holder. The act of connecting with people in similar situations when something devastating happens is key in the healing process.
Now near the end of his spree of marathons, Holder is beginning to feel fatigued. "I'm starting to get tired. I'll never do this many again," he said. This is understandable, 20 marathons in one year is a huge number! However, it's truly a touching and inspiring way to pay tribute to his wife while giving back to the charitable organizations that mean the most to him.
Running as therapy
Running can be a highly therapeutic activity to someone dealing with the loss of a loved one. Exercise helps to focus the mind, alleviate stress and elevate the emotions, along with being necessary for optimal overall health. If you are experiencing something painful in your life, whether it is as drastic as a loss or something lighter, running (or any other type of exercise) can help you to find your center and reach a place where healing can begin.
Bravo to Steve Holder and his inspiring year! His friends and loved ones will no doubt be waiting for him at the finish line with open arms.
— Tanya Mead