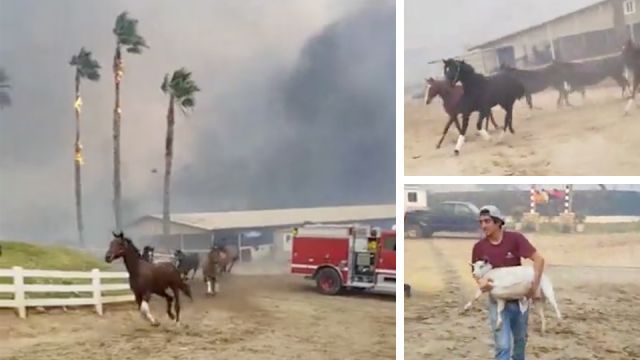 Six fires that together are larger in size than New York City and Boston combined have devoured an estimated 230,000 acres. Remarkably, only one human life has been taken. But for horses, the death toll has been overwhelming. Now, equestrian communities from LA to San Diego are reeling after fires take the lives of thoroughbred horses and beloved companions. But if there's any positive takeaways from this story, it's the brave people who have risked their lives to save the beloved animals from fiery death.
Sadly, many horses did not survive the fire
Sweeping fires in Southern California have destroyed property, threatened human lives, and now, killed dozens of horses. In fact, the death toll has been staggering. Last week, at least 29 horses were burned by the Creek Fire at a ranch in Sylmar, according to a statement by the Los Angeles County Department of Animal Care and Control. Many of the horses were reportedly trapped in locked stalls.
Officers arrived just before 9 a.m. to find a barn burning and some areas of the roof collapsing. They could see and hear horses in distress. After initially rescuing two horses and a puppy, the officers returned to the burning barn to rescue an additional four horses before the flames blocked their entry.
After flames were controlled at the barn, officers were able to enter again. But, sadly, padlocks on horse stalls made it difficult for officers to free the animals. They were then forced to break the locks on 10 stalls before they could get some horses to safety. Unfortunately, flames and a collapsed roof once again prevented officers from accessing the barn, the statement said.
Dozens perish at San Luis Rey Downs
Meanwhile, volunteers have been arriving in droves to help out at Del Mar Fairgrounds, which opened its gates for uprooted animals and livestock due to the Lilac Fire. Reports continue of dead or missing horses and ponies from small farms and ranches throughout the region. But some owners won't even know their animal's fate until evacuation orders are lifted and they can search their properties.
Several of the nearly 500 horses stabled at the nearby San Luis Del Rey were also brought to the fairgrounds. But sadly, many remain unaccounted for.
Southern California is one of the nation's largest horse-racing centers where horses can be run year-round. San Luis Rey serves as a center for trainers and others moving between the courses of the region's racing circuit.
Video from the San Luis Rey fire showed chaos as horses ran free from flames encroaching on the property. Trainer Cliff Sise told CBS that he had been unable to rescue his horse from a burning barn.
"Individuals risked their lives in efforts to free the horses from their stalls and herd them into the safer infield area and training track," Mike Marten, public information officer of the California Horse Racing Board said. It's believed that approximately 25 horses perished in the fire.
Coming together to help
So many animals have died trying to survive the wildfires, including more than 50 racehorses killed by flames or smoke inhalation. And of course, dozens more have died at ranches and barns throughout the surrounding area, also due to the fire.
But luckily for one panicked horse, Fox 11 Los Angeles' Gina Silva was in the right place at the right time. The animal, trying to flee the fire in Sylmar, fell into a crevice. Silva was covering the wildfires in the area when she came across the injured horse. "Horse needs help!!! Stuck in a tiny gap," Silva Tweeted.
Moments later, firefighters arrived on the scene, along with numerous volunteers, reports Mother Nature Network. The terrified animal was then lifted from the crevice and transported to a hospital.
Horse needs help!!! Stuck in a tiny gap. Fell running away from fire in Sylmar. 12122 Kagel Canyon. @FOXLA pic.twitter.com/qwRsdgY63i

— Gina Silva (@ginasilvafox11) December 5, 2017
Strong Santa Ana wind gusts making fire worse
Santa Ana winds pushed the fires so fast and unpredictably that many people fleeing had only minutes to react. In some instances, horse owners said they had to choose between saving themselves and their animals.
Meanwhile, red flag warnings have remained in effect for much of Southern California. Winds are gusting at 30 to 50 m.p.h. and humidity remains at a low 5 percent.
Officials warn that horse stalls should never be padlocked or made inaccessible. Horse owners are also encouraged to microchip their horses for identification during emergencies, and to develop an evacuation plan to reduce loss and injury.
— Katherine Marko