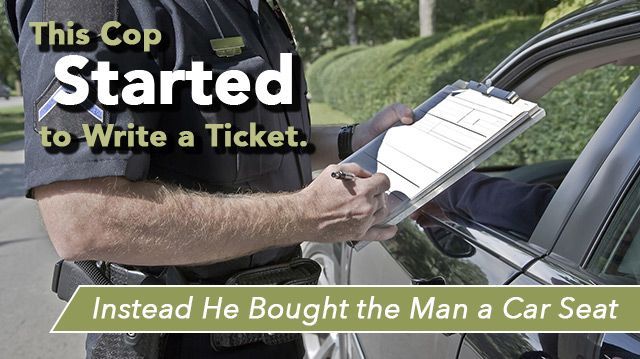 There seems to be an abundance of negative stories about police officers these days. It's easy to believe that all cops are out to get us, to write us traffic tickets or are willing to use deadly force more often than not. While this generalization isn't accurate, it is pervasive. That's why it's always fantastic when a story breaks about an officer not only doing the right thing, but going out of his way to help a person out. Such is the case of suburban Detroit police officer Joshua Scaglione, who bought a car seat for a man instead of writing him a ticket.
Westfield police officer Joshua Scaglione pulled LaVonte Dell over in mid-April for having tinted windows on his car. The officer noticed that Dell's three-year-old daughter, Lauren, wasn't in a car seat. Officer Scaglione asked why she wasn't belted into a car seat, explaining how unsafe it was. It turns out, Dell couldn't afford one.
"He teared up a little bit and told me he was going through some tough times," Officer Scaglione told a local news outlet.
Instead of writing Dell a ticket for the windows or lack of car seat, the officer asked Dell to follow him to a nearby Wal-Mart. The officer purchased a car seat with his own money and gave it to Dell for his daughter.
When asked why he decided to do so, Officer Scaglione explained that he empathized with Dell because he'd been in a similar situation before himself. "I realized this was the perfect opportunity to help him."
Dell, who forgot to ask for the officer's name, wrote about the encounter on Facebook and the Westfield Police Department made sure the two men could meet up again a few days later. "I just thanked him over and again," said Dell. "I told him you didn't have to do what you did."
It's true: Officer Scaglione could very well have written him a ticket or two, but that wouldn't have helped Dell at all. It also would have left his daughter in the same unsafe circumstance. It was clearly the right thing to do.
Child safety seats are vitally important. Car crashes are the number one cause of accidental injury-related deaths for children 14-years-old and younger. According to Dr. James Fortenberry, a pediatrician with Children's Healthcare of Atlanta, "Fifty percent of children ages one to 14 who die in crashes are unrestrained." In fact, according to Dr. Fortenberry, using a child safety seat reduces the risk of your infant from dying in a car accident by 71 percent and the risk of your child dying in a car accident by 54 percent.
Determining which car seat or booster seat is best for your child can be hard. They grow so quickly and they may seem too big for a booster seat, but health department offices, police departments and local hospitals can help you make the proper selection and even inspect your car seat installation to make sure you're using it properly.
There are numerous sites online dedicated to helping parents and caregivers navigate the world of infant and child safety seats. For instance, SeatCheck.org provides visitors with an Inspection Locator and links to each state's child passenger safety laws. The Governors Highway Safety Association also outlines each state's laws about child safety seats.
It's so refreshing to hear about police officers like Officer Scaglione, who take child safety seriously, and are out there living up to the "to protect and to serve" motto scrawled on police cars across the country. Because of his actions, one little girl is safer, and maybe other officers in the future will follow his example to, rather than default to writing a ticket, take a moment and consider how a driver could be best helped.
—Megan Winkler
Megan Winkler is an author, historian, Neurosculpting® meditation coach, certified nutritional consultant and DIY diva. When she's not writing or teaching a class, Megan can be found in the water, on a yoga mat, learning a new instrument or singing karaoke. Her passion for a healthy mind-body-spirit relationship motivates her to explore all the natural world has to offer.
Sources:
http://www.wzzm13.com/news/local/michigan/michigan-officer-buys-car-seat-for-man-instead-of-ticketing-him/147074300
http://www.ghsa.org/html/stateinfo/laws/childsafety_laws.html
https://www.sharecare.com/health/safety-preparedness/why-important-use-car-seat
http://www.seatcheck.org