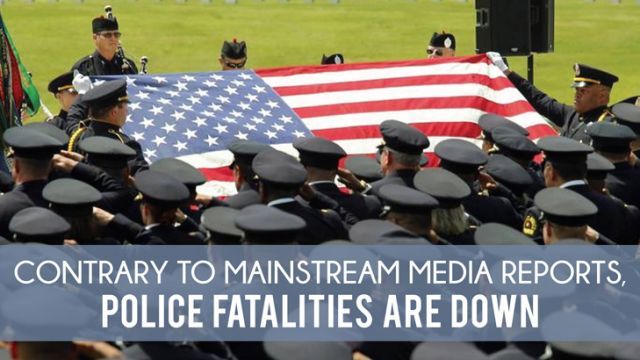 Still reeling after a deadly ambush that left five police officers dead in Texas, we hear once again that three officers have been killed in the line of duty in Louisiana. But before we are led astray by mainstream media sensationalism, we need to take a deep breath and look at some hard facts. The number of police officers killed while on duty is actually on a downward trend.
Just the facts please
Mainstream media has arguably become the main source of news in the Western world. What crimes the media chooses to cover and how they cover those crimes definitely influences the public's perception of crime, including their belief about the amount of crime that's actually taking place. When facts become skewed, distorted journalistic reports can generate unwarranted fears.
While there's no disputing that recent attacks on police highlight the dangers that officers face in the line of duty, sensationalizing the facts paints a picture of an America on the brink of destruction and serves no purpose except to divide people further.
Are police deaths on the rise?
Since the first recorded police death in 1791, there have been over 20,000 law enforcement officers killed in the line of duty according to the National Law Enforcement Officers Memorial Fund (NLEOMF). The 1920s were the deadliest decade with 2,437 officers killed, or an average of almost 243 each year. The deadliest day in law enforcement history was September 11, 2001, when 72 officers were killed while responding to the terrorist attacks in New York City.
So far, in 2016, 66 U.S. law enforcement officers have been killed in the line of duty, 31 of whom were killed by gunfire, according to data from the Officer Down Memorial Page. While that number to date seems high, claims that police killed in the line of duty are on the rise is somewhat misleading.
Recently, Donald Trump said in a speech that there has been "a substantial rise in the number of officers killed in the line of duty — a very big rise." His information was apparently obtained from an article written in USA Today suggests FactCheck.org. While there has been a rise in firearm-related deaths in the last six months compared to a year ago, the number of fatalities from all causes, not just firearms, is largely unchanged from a year ago, and has substantially declined in recent years.
The chart above, based on data from the NLEOMF, shows the total number of police fatalities since 1965. You can see by the chart that overall police fatalities are on a downward trend. In 1973 there were 280 deaths compared to 2015, which shows 124 deaths.
Trends change year to year
2015 shows a record low with 16 officers killed by gunfire during the first six months, which makes 2016 look particularly high in comparison. But since we cannot predict how many police deaths will occur in the remainder of 2016, we can't say that police killings are on the rise says David Harris, law professor at University of Pittsburgh, to the BBC. "Trends are up and down year to year."
Forecasting trends in news headlines, which read "26 police killed so far in 2016, up 44 percent from 2015" or "Police officer deaths from guns up 72 percent from July 2015," implies an upward trend. But basing trends on only two years of information is misleading and does nothing more than incite fear and anger in the general public.
Those in the information industry recognize that fear is a strong and lingering emotion. It not only leads to reaction, but also profit through powerful headlines.
— Katherine Marko