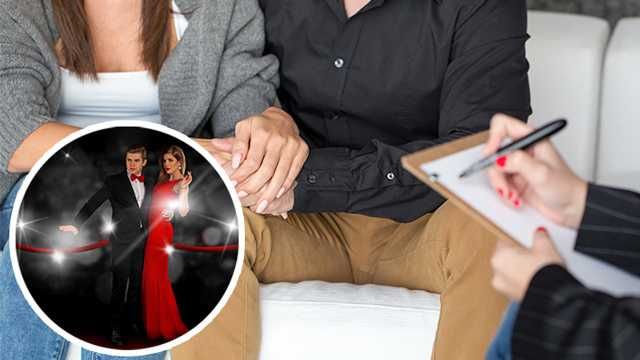 Not all couples, no matter how glamorous, rich or famous, have the skills necessary to improve the quality of — or even save — their marriage. Overcoming relationship problems can be difficult for the average couple. Throw in the paparazzi, beautiful fans, enormous egos and you can see why so many celebrity couples are choosing couple's therapy. In fact, here are nine celebrity couples who did just that, and survived to tell the tale.   
1. Kristen Bell and Dax Shepard
She's a self-described goody-goody and he's a former drug and alcohol user covered in tattoos. They're opposites in every sense of the word, yet, it works. Earlier this year, Dax Shepard opened up to Good Morning America about the secret behind his and Kristen Bell's successful marriage.
"I don't know what the secret is but I'll tell you this," said the 42-year-old actor, "We went to therapy early on to learn what our pattern of arguing was and where we needed to stop that." The celebrity couple, who have been married since 2013, apparently go to couples counseling to prevent problems from surfacing in their relationship.
"You do better in the gym with a trainer; you don't figure out how to cook without reading a recipe," Bell told Good Housekeeping in a 2015 interview. "Therapy is not something to be embarrassed about," she said. But there were hurdles, confessed Shepard, "things she didn't trust about me, things I didn't trust about her. I just kept going back to 'this person has the thing I want, and I have to figure out how we can exist peacefully.'" So, they began couple's therapy right from the get-go.
2. Beyonce and Jay Z
While Beyonce and Jay Z may seem like the "power couple" who have it all, like most couples, they still have their share of ups and downs. With rumors abounding about Jay Z's cheating ways, the couple has managed to work out their differences through couple's therapy. A 2014 report from Mail Online suggests that Beyonce and Jay Z apparently turned to online marriage counseling during their joint 'On The Run' world tour. According to a source, "they have known their therapist for a long time and try to have weekly sessions just to keep communication open and make sure there are no misunderstandings."
3. Cameron Diaz and Benji Madden
Cameron Diaz, who in the past resisted marriage, married Good Charlotte rocker Benji Madden in a surprise ceremony in 2015. But, according to Life & Style, even before the honeymoon began, rumors were floating around that Cameron and Benji were battling over the details of their prenup. Cameron's $90 million fortune is exceedingly more than Madden's $20 million net worth. Perhaps this hiccup fueled their decision to seek couple's therapy so early in the game.
"Call it a preventative measure," reported The Star in March 2015. Just two months after tying the knot in an intimate ceremony at her Beverly Hills home, Diaz and Madden were in marriage counseling. Sources say the couple, who had a short seven-month romance before saying "I do," attend therapy once a month in order to stay happy. Apparently, couples therapy acts as a preventative for potential stumbling blocks.
4. Neil Patrick Harris and David Burtka
Just because Neil Patrick Harris and David Burtka have been together for 13 years it doesn't mean their marriage can't use a little fine-tuning. Recently, Burtka who married Harris in 2014, opened up to Life & Style Magazine about the benefits of couple's therapy. "Not that there's anything wrong, but it's nice to sort of just talk to someone who is a mediator. That's helped our relationship," revealed Burtka.
5. Jada Pinkett Smith and Will Smith
Jada Pinkett Smith and Will Smith may have been married for almost 20 years, but that doesn't stop rumors about marital problems. So, it's no surprise that Smith came clean to The Sun about the couple turning to therapy to save their marriage. Although the couple had acknowledged marital problems in the past, neither had admitted going to counseling together. The high-profile couple has been plagued with rumors of a rocky marriage and that they have an open relationship. These rumors finally pushed Smith to deny reports they were divorcing. Apparently, the couple sought therapy after their marriage reached a breaking point.
"What happens in a marriage once you do counseling, the truth comes out," Smith said. "You look at each other and you can't imagine you could ever possibly love each other again now the truth is out." But for Smith, it was the dark before the dawn. "When the truth comes out and people have to say who they are and what they think, you get to know who they are," added Smith.
6. Pink and Carey Hart
Pop singer Pink opened up to Redbook about her marriage with motocross champion Carey Hart. While it hasn't always been smooth sailing, according to the Pink, the two are doing just fine, thanks to couple's therapy and the birth of their two kids. "We fight nice," Pink said in the interview. "There is no yelling in front of Willow, ever. We can argue, just no yelling. We are couple's-therapy people. We do it for maintenance, not problems."
7. Robin Dearden and Bryan Cranston
Breaking bad star Bryan Cranston and wife Robin Dearden are no strangers to therapy either. In a 2013 interview with Rolling Stone, Cranston spoke about how the couple met — guest starring on a series called Airwolf — and how he doesn't believe "there's just one person for you." Love among adults, says Cranston, is conditional.
When asked if Cranston ever speaks with a therapist, he replied, "I see a guy in L.A. from time to time, when I'm feeling edgy or anxiety-ridden." He went on to say, "my wife and I go to a couple's therapist. Our agreement is, if either of us feels like we want to go, the other can't object. For my father's generation, as he literally said, 'I'd rather stick needles in my eyes than go to a therapist.'"
8. Jillian and Patrick Dempsey
Actor Patrick Dempsey and makeup artist Jillian Dempsey began couples counseling after filing for divorce. In fact, in an interview with People Magazine, Patrick credits couples therapy (and lots of sex) as being "very important" to giving them a "new beginning."
"We decided it was time to get in there and work on our individual issues and our issues as a couple," Patrick said. "I wasn't prepared to give up on her and she wasn't either. We were both committed. We both wanted to fight."
— Katherine Marko