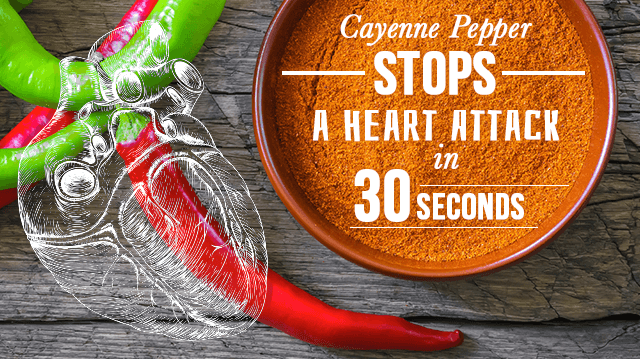 Did you know that there is one natural remedy that can protect against every leading cause of death in Western countries?
It's time for a new go-to remedy to join the ranks of coconut oil, raw honey, and apple cider vinegar. Cayenne pepper has so many amazing benefits; it has the potential to fight chronic diseases and also help with acute conditions.
Cayenne pepper fights against heart disease
Heart disease is a term used to describe several problems related to plaque buildup in the walls of the arteries. As the plaque builds up, the arteries narrow and make it more difficult for blood to flow, thus creating a risk for heart attack or stroke. Heart disease is the leading cause of death for both men and women in the United States, and is also the leading cause of death worldwide.
Coronary heart disease costs the United States 108.9 billion dollars each year and is the most common type of heart disease. How much of this suffering and expense could be alleviated with the use of natural preventative remedies like cayenne pepper?
Cayenne pepper has long been used as a traditional treatment for cardiovascular and circulatory problems, as well as to help alleviate chronic pain and joint issues. The active compound, capsaicin, produces a sensation of heat which results in widening of the blood vessels and increased circulation. This helps the heart and circulatory system work more efficiently.
Since cayenne pepper stimulates a strong response in the body, herbal medicine experts even recommend its use for acute conditions such as heart attack. Veteran naturopathic doctors, Dr. David Christopher, Dr. Patrick Quillin and Dr. Richard Schulze have provided ample practical evidence to support the use of cayenne pepper as a remedy for heart conditions. One major scientific study published in the journal Circulation also backs up this idea.
When laboratory mice were induced to have a heart attack, a salve containing capsaicin was rubbed on the abdomen. It was found that the cayenne extract was able to prevent damage to the heart, with an 85 percent reduction in cardiac cell death caused by the episode.
Lead researcher Keith Jones, PhD, from the University of Cincinnati's Department of Pharmacology and Cell Biophysics, stated that this is the most powerful cardioprotective effect ever recorded. The scientists believe that this protective effect is thanks to "pro-survival" pathways triggered by the capsaicin.
There are a number of beneficial compounds in cayenne pepper, which could explain its widespread benefits. The spice contains an impressive array of plant nutrients, like antioxidants and carotenoids, which lower LDL cholesterol and blood triglycerides. As well as widening the blood vessels for better circulation, cayenne also discourages platelet adhesion, which is the clumping of blood that can lead to dangerous clots.
While a human study on the ability of cayenne pepper to stop a heart attack would probably be considered unethical, holistic practitioners who have found themselves in an emergency situation report that drinking a cup of hot water with half to one teaspoon of cayenne pepper is able to stop internal bleeding and heart damage in a patient in less than one minute.
It is also possible to make a cayenne pepper tincture, which experts say can be dropped under the tongue of an unconscious person in an emergency situation. The ingredients of a tincture are as follows:
1

cup

of cayenne pepper powder

1 to 3

fresh cayenne peppers

2

cups

of vodka
Servings:
Liter Glass Bottle
Place the powder in a one-litre glass bottle and cover with alcohol. Blend up the fresh peppers with a little alcohol to make a thick mixture and add to the bottle. This mixture should be shaken regularly while it infuses for at least two weeks, or up to three months. After this time period, the tincture can be strained and poured into a dark glass bottle for indefinite storage.
This is a good remedy to use on regular basis to improve circulation, fight free radical damage, improve antioxidant status and gain important nutrients such as vitamin A, B vitamins, vitamin C, calcium and potassium. It is also wise to keep cayenne tincture on hand in case of acute accidents involving bleeding, or any unexpected cardiac episodes.
Cayenne pepper fights several types of cancer      
Several scientific studies have found that among cayenne pepper's many benefits is the ability to induce the death of cancer cells. This spice can be incorporated into a natural regimen to combat cancer. Research has been carried out in relation to several types of cancer, including leukemia, lung cancer, pancreatic cancer and prostate cancer.
Researchers have found that cayenne pepper, with its active compound capsaicin, is able to stop the proliferation of cancer cells and induce a process called apoptosis, which is essentially a programmed death of the dangerous cells.
Stroke may be preventable thanks to cayenne pepper
Stroke and other cerebrovascular diseases are among the top-five leading causes of death in our society. This refers to conditions involving the circulation of blood within the brain.
As we have already discussed, cayenne pepper is able to assist in the prevention of dangerous blood clots, and also improve circulation while halting an internal hemorrhage.
Stroke is caused by a lack of fresh blood delivery to brain tissues. Cayenne pepper can prevent this by invigorating mucus membranes and blood vessels so that clots are dissolved, which halts any further damage.
Cayenne pepper against diabetes
Diabetes is another widespread cause of illness and death, costing the health-care system billions of dollars each year. This suffering and expenditure is unnecessary because type 2 diabetes is a condition that can be prevented and managed with lifestyle changes.
Along with smart diet and lifestyle changes, cayenne pepper can help to manage blood sugar imbalances and diabetes. Studies suggest that capsaicin found in cayenne pepper influences the way that the body processes glucose in the blood. It also stimulates the digestive process and improves tissue sensitivity to insulin. The result is that less insulin is required to facilitate the delivery of glucose from the blood into tissue.
Try making your own cayenne pepper tincture as an important addition to your natural remedy arsenal. It also makes a great addition to your diet, adding lively spice and flavor to a variety of dishes. What do you like to make with cayenne pepper?
— Liivi Hess
Liivi is an Integrative Nutrition Health Coach and is training to become a doula. She inspires women to find peace and personal power by taking control of health and fertility naturally. Liivi's passion is ancestral nutrition and primal lifestyle design. She and her partner Will live between Toronto, Canada and Queenstown, New Zealand.
Sources:
http://cancerres.aacrjournals.org/content/66/6/3222.short
http://link.springer.com/article/10.1007/s10495-008-0278-6
http://www.sciencedirect.com/science/article/pii/S0304383597003212
http://umm.edu/health/medical/altmed/herb/cayenne
http://www.medicalnewstoday.com/articles/282929.php
http://www.cdc.gov/nchs/fastats/leading-causes-of-death.htm
http://healthyeating.sfgate.com/cayenne-pepper-blood-sugar-5763.html