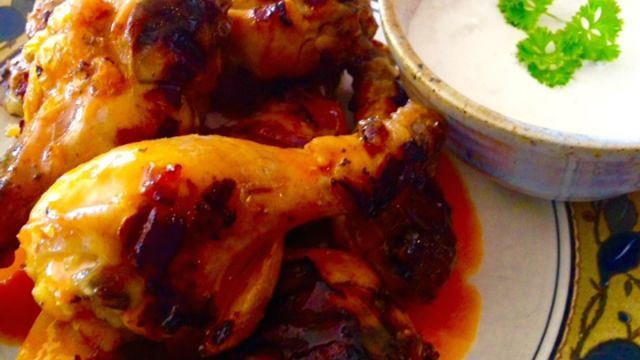 Sometimes, simple cooking is best — but that doesn't have to mean boring. Remember: your dish is only as good as the ingredients, so choose the best chicken and best ingredients for optimum taste and health.
Choosing the best quality chicken for your family
Chicken drumsticks are an excellent source of protein, essential amino acids and several vitamins and minerals. But if it's not organic then you may not be getting the highest nutrient quality, suggests WHfoods.org. In addition, non-organic chicken is at risk of eating contaminated feed.
Being organic doesn't necessarily mean the chickens are living a natural lifestyle, either. When choosing chicken, go beyond organic and ask for a pasture-raised bird or drumsticks. Don't be fooled by confusing labels like "pasture-raised," "pastured," "free-range" and "cage-free" on chicken meat packaging, because labeling laws allow products to display these terms even if the chicken spends little or no time outdoors in a pasture. The best way to ensure you're getting organic, pasture-raised chicken is by asking the grocer or chicken farmer. And don't be afraid to ask how they are being raised.
No oil required
How you prepare your chicken drumsticks also makes a "healthy" difference. Breading adds extra gluten to your meal and frying significantly more fat. Baking or broiling drumsticks in its skin allows the chicken to stay moist. For the leanest meal, remove the skin from your chicken legs and trim away any visible fat before cooking. However, that tends to dry them out and may require additional oil to keep them moist. I prefer to cook my drumsticks in the skin to retain moisture and then remove it after they are cooked — just prior to adding sauce. That way no oil is needed to baste the legs, there's enough fat on drumsticks to retain moisture.
Serving tips
Removing the skin doesn't mean you have to skip out on flavor. This buffalo-style chicken sauce is made simply with just three ingredients: a good quality hot sauce, organic, grass-fed butter and raw honey — which is added after the skin has been removed. The dipping sauce is made with Greek yogurt, which is strained more times than traditional yogurt to remove more whey. It's naturally thicker and contains more protein than regular yogurt. And being thicker means more gut-healthy probiotics. Mayonnaise is also added to the dip to give it body and flavor, but you can leave that out if you're trying to cut calories. Just amp up the seasoning.
Buffalo Chicken Drumsticks with Blue Cheese Recipe
| | | |
| --- | --- | --- |
| | | Buffalo Chicken Drumsticks with Blue Cheese Recipe |
2 to 3

pounds

organic, pasture-raised chicken legs (about 10 to 12 drumsticks)

3/4

cup

good quality hot sauce, such as Frank's RedHot

3

tablespoons

melted organic, grass-fed butter

1/4

cup

raw honey
Step Two: Blue Cheese Yogurt Dip
1

cup

crumbled blue cheese

1/2

cup

mayonnaise

3/4

cup

Greek yogurt

1/2

tsp

garlic powder

1/2

tsp

onion powder
Preheat the oven to 400°F. Wash drumsticks and pat dry with a paper towel. Lay them out on a parchment paper-lined baking sheet. Bake for 30 minutes.

Assemble the hot sauce, butter and honey. Add the ingredient into a medium pot.

Cook over medium heat until sauce comes together and bubbles — whisking occasionally.

Remove the drumsticks from the oven. Allow them to cool enough to handle and remove the skin. Add the skinless drumsticks into a large bowl and pour the buffalo sauce over the drumsticks. Toss to coat, and then place them back on the baking sheet.

Cook for 10 more minutes, turning halfway.
Step Two: Blue Cheese Yogurt Dip
While the chicken is cooking, prepare the blue cheese dipping sauce by adding the blue cheese, mayonnaise, yogurt and spices together in a bowl.

Mash the blue cheese and mix it well.

The drumsticks in the oven should now be nicely browned. Place chicken on a platter and pour over remaining sauce. Serve with blue cheese dipping sauce. Enjoy!
— Katherine Marko