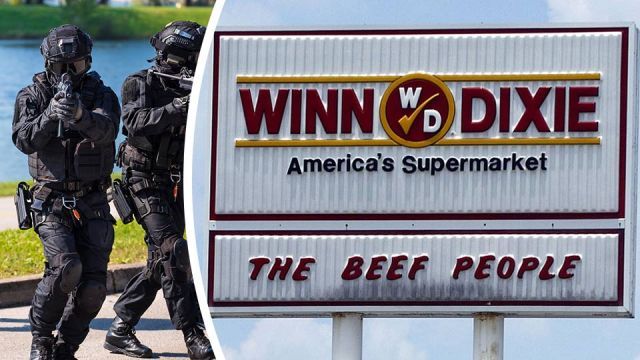 An active shooter is being reported at a Winn Dixie in Lauderhill, FL.
The location is at North State Road 7, right next to the Lauderhill Shopping Mall.
Media Relations for the Lauderhill Police Department just tweeted this.
Lauderhill Police investigating reports of an active shooter 1531 NSR7 Winn Dixie. Community asked to avoid area. PIO on scene pic.twitter.com/tVktSiCQIe

— LauderhillPDPIO (@LPDPIO) October 12, 2017
The Broward Sheriff's Office SWAT team was at the scene.
Schools in the vicinity are on lockdown and all parts of the mall are currently blocked off.
Also, according to reports, there is a very large police presence at the scene.
We will keep you posted as updates come in throughout the day.
2:38pm EST UPDATE—>
According to the Lauderhill police department, an all-clear for the area has been ordered. No suspects or injuries have been reported. However, the Winn Dixie will remain temporarily closed.
#update All clear given for the area. Winn Dixie remains temp closed pending the investigation. No suspects no injuries https://t.co/UjAHJi2njf

— LauderhillPDPIO (@LPDPIO) October 12, 2017
Our PIO gives an update on the active shooter incident outside Winn-Dixie on N. State Road 7. No shooter was found. Investigation underway. pic.twitter.com/BiKWvhDD1x

— LauderhillPDPIO (@LPDPIO) October 12, 2017
An ongoing investigation is currently underway.
–PJ Amirata