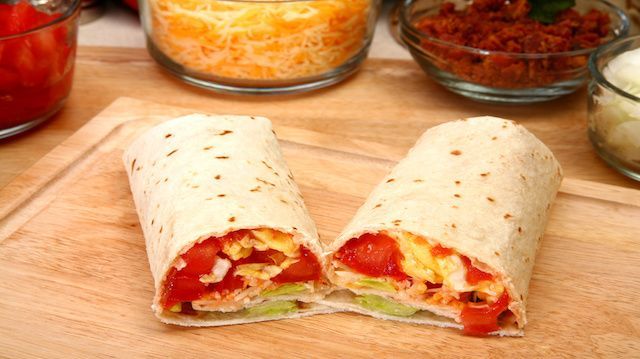 William "Buddy" Christopher, a health inspector from the City of Boston Inspectional Services Department orders up a meal at the Cleveland Circle Chipotle weeks after a norovirus outbreak shut down the restaurant. The outbreak sickened more than 136 people, including a large number of Boston College students, according to a Boston Public Health Commission statement released on December 11, 2015.
Christopher and colleagues dined at the Chipotle restaurant to ensure the public that the facilities had been thoroughly inspected and the restaurant was once again a safe place to eat. "We are pleased to see that the Cleveland Circle Chipotle has taken the necessary steps to meet the health code standards put forth by the City of Boston to protect consumers," Christopher said to media outlets. "To show our confidence in our inspection, I enjoyed a lunch at Chipotle this afternoon." 
Norovirus is a highly contagious virus that inflames the intestines and stomach, leading to stomach pain, nausea, diarrhea and vomiting, according to the Centers for Disease Control and Prevention (CDC). Norovirus accounts for 19 to 21 million illnesses in the United States every year and is the most common cause of foodborne illness outbreaks in the U.S., according to the CDC. "It is important to note that noroviruses are very common, in part because they are so easily transmitted," Chris Arnold, a Chipotle spokesman told ABC News. 
Chipotle has had its hands full as E. coli outbreaks associated with Chipotle restaurants plague the nation. Chipotle's stock shares are taking the brunt of the restaurant chain's inability to control, or even pinpoint, the source of the continuing E. coli outbreak. Presently, there are 53 reported cases of E. coli linked to Chipotle restaurants in nine states from coast to coast, according to the CDC. Among those cases, 20 people have been hospitalized. 
It is somewhat encouraging to see Boston health officials dig into burrito bowls with confidence, urging the public that the work they do is precise. However, picking up that black plastic Chipotle fork may take a bit more convincing after the year Chipotle just had. According to Food Safety News data, Chipotle chalked up 514 foodborne illness cases in 2015 alone. Chipotle stock has dropped well below $500 per share according to December 2015 reports, as well. 
Will Chipotle ever bounce back, and would you be as brave as Boston health officials?
—Stephen Seifert
Stephen Seifert is a writer, professor, adventurer and a health & fitness guru. His flair for travel and outdoor adventure allows him to enjoy culture and traditions different than his own. A healthy diet, routine fitness and constant mental development is the cornerstone to Stephen's life.
Sources:
http://bphc.org/onlinenewsroom/Blog/Lists/Posts/Post.aspx?ID=878
http://www.cdc.gov/norovirus/about/overview.html
http://www.cdc.gov/ecoli/2015/o26-11-15
http://www.foodsafetynews.com/2015/12/chipotle-outbreak-illness-count-hits-514-as-cmg-stock-dives-below-500/#.Voq9qBG3Pdl