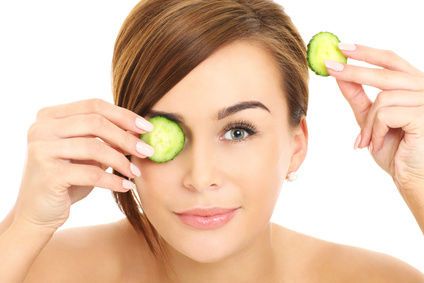 Cucumbers not only offer lots of nutrition for the body, they are known to be extremely beneficial to the skin.
Cucumber flesh contains vitamin C and caffeic acid which are known to help soothe skin irritations and reduce swelling in addition to preventing water retention. Cucumbers are also known to have nourishing, hydrating and astringent properties.
Consider one or more of these eight great ways to treat your skin right with this beneficial vegetable.
Soothing puffy eyes
One of the most common uses for cucumbers, other than eating them, is to soothe puffy eyes. Just cut two thick slices from a cold cucumber and place them over your closed eyes for 10 to 15 minutes to help reduce water retention. It's the ascorbic acid content (vitamin C) that helps to lessen eye puffiness almost instantly.
Create a brighter complexion with cucumber toner
A cucumber toner can help reduce skin puffiness, calm and tighten the skin and reveal a brighter complexion. You can use cucumber juice alone, or try this combination of ingredients:
½ cucumber (skin on), chopped
3 tablespoons witch hazel
2 tablespoons distilled water
Place all ingredients into a blender and blend until smooth. Pour the mix through a fine-mesh sieve to remove the solids and then pour the toner that remains into a clean bottle with a lid. Store it in the refrigerator and it will last several weeks.
Fade blemishes and acne scars
Just mix equal parts of cucumber juice and coconut water to fade skin blemishes and help whiten the skin. If you have acne scars, combine equal parts of lemon juice and cucumber juice to help fade or even remove them.
Preventing blemishes
An "anti-blemish" face mask can be made by blending a one-inch chunk of cucumber with one drop of rosemary essential oil and one egg white. Place the cucumber in a blender and blend until it turns to liquid, then add the drop of rosemary oil.
Whisk the egg white until it becomes stiff and fold it into the cucumber mixture. Apply to the face, avoiding the eye and mouth area. Allow it to sit for 15 minutes and then rinse off with a damp washcloth.
Treat combination skin
If you have combination skin (dry or normal in some areas, oily in others), use cucumber to create a mask that will help improve your complexion by mixing one half of a cucumber and one tablespoon of plain organic yogurt.
First puree the cucumber in a blender and then add the yogurt. Apply onto your face and neck and let it sit for about 20 minutes. Rinse with warm water followed by a splash of cold water.
Soothing sunburned skin
Cucumber is excellent for helping to soothe sunburned skin. If you were in the sun longer than you should have been, just apply cucumber juice to the affected area. It offers cooling and soothing effects and can also help to speed healing.
Fade dark circles
Rubbing cold cucumber slices under the eyes or applying cucumber juice can help to fade those annoying dark circles. Use a damp washcloth to remove after about 10 minutes. If you do this on a regular basis, your dark circles should start to fade gradually.
Make a cucumber salad
Eating cucumbers helps to improve skin from the inside out! Add some to a tossed baby spinach salad for a potent nutrition punch or make a salad base using chopped cucumbers mixed with fruits and other veggies.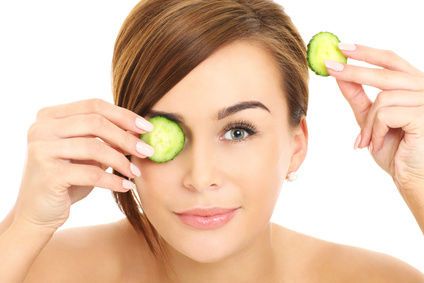 Don't forget, standard cucumbers come laced with pesticides which can be toxic whether eaten or applied to the skin. Choose organic whenever possible!
-The Alternative Daily