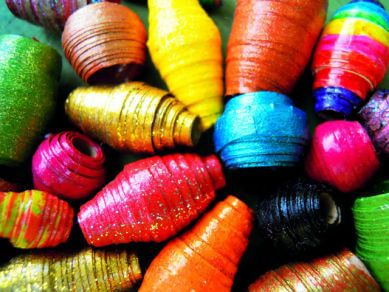 Upcycling is modifying or crafting an existing item that was going to be thrown away and turning it into a new, functional item. Upcycling is different than recycling that uses water or energy to make more of something. Upcycling requires a little creativity and craftiness, but once you let your imagination soar, the sky's the limit.
For Christmas this year, why not suggest that everyone give upcycled gifts instead of buying new. It is a fun challenge and a great way to support the environment.
Ideas for upcycling:
Clothes – Buying old clothes from a thrift store, or digging through your closet, you can find some great materials for making new clothes. Cut, or roll up a pair of jeans. Add some ruffle from a skirt to the top of some cut off pants to make a new skirt. Turn some t-shirts into a skirt or dress. Cut off sleeves of a shirt to make a new tank top. Add ribbon, borders, lace, embroidery, or any other details to create a custom piece of clothing.
Jewelry – Lots of jewelry can be upcycled from old products. Corks make great eye-catching beads for bracelets or earrings. Old forks and spoons bent in shape make cool bracelets. T-shirts can be cut into strips and braided together to make bracelets and necklaces. Get creative, almost anything can be turned into some type of jewelry.
Bags – Old t-shirts, pillowcases, sweaters, and blankets can be made into bags. In fact, anything made of fabric can be made into a nice new tote for the library or grocery shopping. If you can crochet or knit, try making some upcycled plastic bag or t-shirt yarn then stitch yourself up a bag.
Lighting – Upcycled lighting is a cool and practical way to decorate your home or apartment. Wine bottles turned into lamps, mason jars into chandeliers, and folded newspaper christmas light covers are just a few ideas. Wine bottles and mason jars also make great candle holders decorated with a little lacy ribbon.
Furniture – Upcycling furniture is a cheap and creative way to redecorate your home. Use dresser drawers to make fun shelves, an old suitcase for a footstool, or a door as a table. Wood pallets are becoming a popular upcycle item. These dumpster treasures can be made into almost any piece of furniture imaginable.
Cards – Who doesn't love a homemade christmas card? Even better, an upcycled one. Note cards from upcycled paper are a unique way to send a greeting. Pages from books, newspaper, old note cards, wrapping paper, magazines, maps, and music pages all make great materials for card making.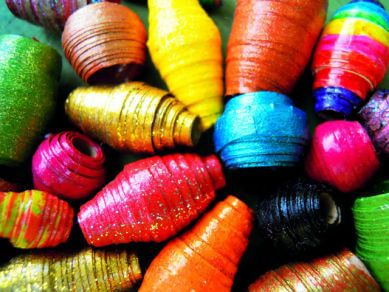 Garden – Lots of upcycled projects can be used in the garden. Use popsicle sticks to mark planting locations, make a raised planter from tires. Use old mugs, pots, boots, bowls, and glasses for planting containers. Make a garden bench from some milk crates, or use an old barrel for a pond.
Pet supplies – Your pet can be green too, with some of these upcycled projects. An old suitcase makes a cute dog bed, and a drawer is perfect for a cozy kitty. Make some knotted dog toys by braiding strips of old clothes together. Sew an old sock into a heart and add some catnip and bell for a cat toy. Craft a collar and leash from braided strips of your old pair of jeans for a cute shabby chic look.
-The Alternative Daily