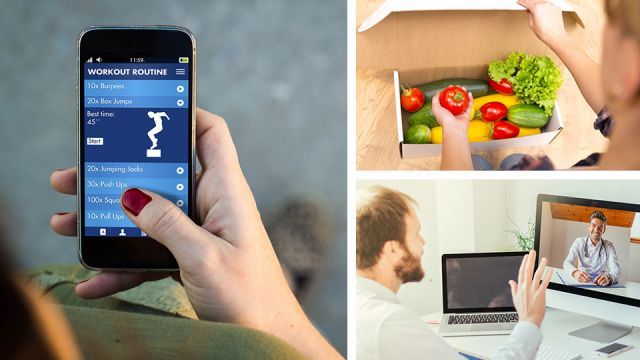 Millennials are accredited for many modern, innovative concepts and inventions. However, just like any other age group, we suffer from our own set of problems. We all know being healthy ain't easy! In a world where there's a fast food joint on every corner and everything is instantaneous without much effort, it can be easy to let your health fall to the wayside. Although millennials can be considered the "they have it so easy" generation, we can offer up a few health hacks that just might make the world a better place. Dive into these seven genius millennial health hacks.
1. Consult the apps
Consider yourself to be the eager student and a cellphone app to be the all-knowing sensei! The app store is flooded with health apps that can help make monitoring your health a peachy keen experience. Apps can be considered the greatest gift to mankind. They provide tons of helpful information right at your fingertips. Back in the day, searching for health tips took far more effort. Finding out the latest health news meant trying to slide a VHS tape into your VHS player to record the latest health segment on TV or moseying over to your doctor for information.
As a millennial, I find myself feeling like an eager, wide-eyed kid in candy land when I open the Google App store. I end up eyeing the abundance of apps pertaining to literally everything as if they were sweet treats. There are apps to help you lose weight, get better sleep, track your water intake and more.
My personal favorite app is the Female Fitness Bikini Body app. It's jam-packed with dozens of workouts to help you target certain muscles. Within the app, you can enter your information (weight, height, body type, etc). The app helps you build specific workouts based on your information. For people who awkwardly flail around the gym cluelessly like myself, this app can help because it offers videos for each exercise to help you perform the workout correctly. Say goodbye to your clumsy gym days!
2. Get yourself a digital doctor
The phrase "There's an app for everything" couldn't be more accurate. In today's digital world, you can see a doctor virtually on your smartphone and even have the doctor prescribe medication no matter where you are. Oh, how I wish this technology was available in the 90s!
Virtual medicine is a convenient option for keeping your health on point. A great app to use is Doctor On Demand. The app allows you to see a board-certified doctor via a video consultation. You have the option to get prescriptions or just have your questions answered. Seeing a doctor while you lay in bed could cost you as little as $40.
If you're looking to keep your medical records organized, try Microsoft HealthVault. You will be able to keep your medical records updated and safe or share them securely with healthcare professionals.
3. Hop on Youtube
When Youtube first launched, I had no idea it would end up being a fitness hub. If you haven't watched workout videos on Youtube yet, start now! With the rise of digital jobs, many of us are glued to computer screens for the majority of the day and venture outdoors less frequently.
Imagine you've been sitting in your office all day fretting that you won't make it to the gym after work. You rub your temples frustratingly as you realize yet another day has passed by without you keeping your commitment to go to the gym. Youtube is a huge help for people who need a quick workout anytime, anywhere.
During one of my "I need to cut the B.S. and get fit" moments in college, I stumbled across Keaira LaShae, a.k.a. SuperherofitnessTV on Youtube. I love how Keaira is so relatable and creates dozens of fun workout videos for anyone to try. Her workouts are never boring and you even get to shake your booty while you burn off those calories!
Check out her "Calorie Burning Full Body Dance Workout" video for a great workout on the go:
4. Take advantage of gym benefits
I have a confession. I passed the gym nearly every day on my way to class in college but only stepped foot through those doors a handful of times. If you are currently in college, whether you're a newbie or returning back to school, take advantage of the gym! Now that I'm no longer swamped with school papers, I've taken a dive back into my fitness life, which makes me wish I would have used the gym on campus more when I had the chance.
Remember, if you're in school, the fitness center is included in your tuition. Use it or lose it! And if you're a working professional, find out if your company has gym packages or access to a fitness facility. If you need help figuring out how to get started, many gyms offer free health exams and will also help you create specialized health plans. If working out with weights isn't your thing, consider going for a swim in the pool or taking a fitness class.
5. Talk it out for free
It's a shame that more people don't utilize psychological services. After seeing flyers for the psychological services that were offered at my college, I finally decided to give it a shot. At the time, I was feeling particularly stressed. I was feeling the anxiety of the "real adult world" quickly approaching me. Fast forward and there I sat on a plush couch speaking to one of the counselors at my school. It was one of the best decisions I ever made. Sometimes we don't know just how much we need a trusted ear to patiently listen to a vent session.
Many communities offer free or reduced-priced psychological services. Even if you feel like life is great, psychologists can help you realize things you may have overlooked previously. Skim through Google and see if you can find any great psychological centers near you. You won't regret it.
6. Try the meal prep trend
Meal prep is a trend that took over Instagram! There are hundreds of accounts dedicated solely to meal prep that are full of delicious pictures of perfectly planned meals. Take a look at @mealprepdaily for some yummy inspiration.
If you haven't heard of meal prep, it simply means taking the time to plan out your meals for the week by cooking and preparing everything in one day and strategically placing it all in Tupperware containers. This allows you to stay on board with your health goals. You'll save time and energy not having to think about what to eat throughout the week, and it's an easy way to eat healthy without even trying.
7. Amazon food delivery
No time to go shopping for your healthy treats? Check out Amazonfresh. I must admit when I first heard Amazon would offer grocery delivery services, I thought to myself, "Aside from someone who is unable to travel to the store, who would be lazy enough to want their groceries delivered?" I stand corrected. Having your groceries delivered is the way to go! You can avoid the overwhelming feeling of bumping carts with other shoppers and you can take the time to read reviews on good-looking items in advance.
What other millennial health hacks have you tried? Let us know in the comments below!
— Laura Jazmin Tolliver