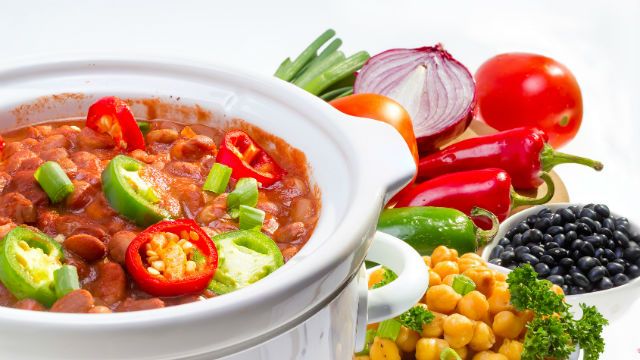 These crock pot dinners are not only delicious, they're filled with nutritious ingredients that can help support weight loss, and help you shed unwanted fat. Keep in mind that using organic ingredients whenever possible will allow you to avoid getting a dose of toxic compounds which can lead to weight gain and a host of other health issues.
Veggie-Filled Beef Stew
Ingredients:
1 ½ to 2 pounds grass-fed stew beef
1 cup sliced button mushrooms
1 ounce whole shiitake mushrooms
1 cup baby portobello mushrooms
1 sweet potato or other root vegetable, chopped
½ cup baby carrots
4 garlic cloves, peeled and minced
1 cup diced onions
2 cups gluten-free beef or chicken broth
½ cup balsamic vinegar
2 bay leafs
1 tablespoon dried oregano
1 tablespoon dried rosemary
1 teaspoon dried sage
Sea salt and pepper, to taste
Place mushrooms, garlic and onions in the bottom of your crock pot. Add meat, sweet potato and carrots on top followed by the remaining ingredients. Cook on low for 6 to 8 hours.
Lemon Garlic Chicken
1 whole, free-range chicken
30 to 40 cloves of garlic, peeled
1 whole lemon
1 onion, sliced
Sea salt and pepper, as desired
Homemade Italian seasoning blend, created by mixing equal Parts of marjoram, thyme, rosemary, savory, sage, oregano and basil
Line the bottom of the crock pot with sliced onions and garlic. Rinse chicken in cold water, pat dry and then place on top of garlic and onions. Cut the lemon in half, and squeeze the fresh juice over the chicken.
Season the chicken with sea salt, pepper and Italian blend. Place lemon halves inside the cavity of the chicken. Cook on low for 6 hours. Remove chicken and shred all of the meat from the bone. Throw away carcass and place shredded chicken back into the broth.
Crockpot Greek Stew
Ingredients:
3 tablespoons unrefined, extra virgin, organic coconut oil
2 to 3 pounds grass-fed beef cut into 1.5″ cubes
1 medium onion, chopped
10 large garlic cloves, minced
1 cup tomato puree
½ cup dry red wine, preferably Zinfandel or Petite Syrah
2 tablespoons red wine vinegar
2 bay leaves
1 cinnamon stick
4 whole cloves
Sea salt and freshly ground black pepper, to taste
1 lb small pearl onions
1 cup walnut halves
1/2 cup crumbled feta cheese
Heat coconut oil over medium-high heat in a large pot on the stove, browning on all sides, about 5 minutes. Remove the meat and place in bowl so the juices can be caught in the bowl.
Add chopped onion and garlic cloves to your pot until the onions are translucent, about 4 minutes, stirring occasionally. Add tomato puree, wine, and wine vinegar and then pour the meat with the juices back into the pot. Add the bay leaves, cinnamon, cloves, and season with sea salt and pepper.
Remove contents from the pot on the stove, and place into your crockpot. Add the pearl onions and cook on high for 4 hours. Add walnuts and cook for another 30 minutes. Five minutes before serving, add the feta cheese.
Slow-Cook Moroccan Lentil Soup
Ingredients:
2 cups onions, chopped
2 cups carrots, chopped
4 cloves garlic, minced
2 teaspoons extra-virgin olive oil
1 teaspoon ground cumin
1 teaspoon ground coriander
1 teaspoon ground turmeric
¼ teaspoon ground cinnamon
¼ teaspoon ground pepper
6 cups vegetable broth
2 cups water
3 cups chopped cauliflower
1 ¾ cups lentils
1 28-ounce can diced tomatoes
2 tablespoons tomato paste
4 cups chopped fresh spinach
1/2 cup chopped fresh cilantro
2 tablespoons lemon juice
Add onions, carrots, garlic, oil, cumin, coriander, turmeric, cinnamon and pepper into your crockpot and mix well. Next add veggie broth, water, cauliflower, lentils, tomatoes and tomato paste, stirring until well combined.
Cover and cook until the lentils are tender, 4 to 5 hours on high or 8 to 10 hours on low. During the final half hour of cooking, stir in spinach, and just before serving stir in lemon juice and cilantro.
Spicy Ethiopian Chicken Stew
1 ½ cups red lentils
2 ½ pounds free-range boneless, skinless chicken thighs
1 tablespoon grass-fed butter
2 teaspoons coconut oil
4 cups chopped red onions
5 cloves garlic, minced
1 tablespoon minced fresh ginger
5 tablespoons berbere spice blend (can be found at most well-stocked grocery stores, a must for the flavor)
½ cup dry red wine, preferably Pinot Noir
1 14-ounce can diced tomatoes
2 cups gluten-free chicken broth
Wash lentils in cold water in a medium bowl until the water runs clear. Next, drain and spread the lentils in an even layer in your crockpot. Place chicken on top of the lentils. Heat the butter and oil in a large skillet over medium-high heat.
When the butter has melted, add onions and cook, stirring frequently until soft and translucent. Add garlic and ginger and cook, stirring often, until fragrant. Add berbere seasoning and cook, stirring, until very fragrant. Stir in wine, scraping the onion mixture from the bottom of the pan, and then add tomatoes, stirring in with their juice.
Add onion mixture on top of the chicken, and then pour in broth. Cover and cook until chicken begins to fall apart, 7 to 8 hours on low or 5 hours on high. When finished, stir to combine.
These meals offer a great way to warm your tummy while busting fat at the same time. Enjoy!
-The Alternative Daily
Sources:
http://momgonepaleo.com/page/9
http://civilizedcavemancooking.com/crockpot/lemon-garlic-crockpot-chicken
http://marianutrition.blogspot.com/2010/06/stifatho-greek-stew.html
http://www.eatingwell.com/recipes/slow_cooker_lentil_soup.html
http://www.eatingwell.com/recipes/ethiopian_chicken_stew.html