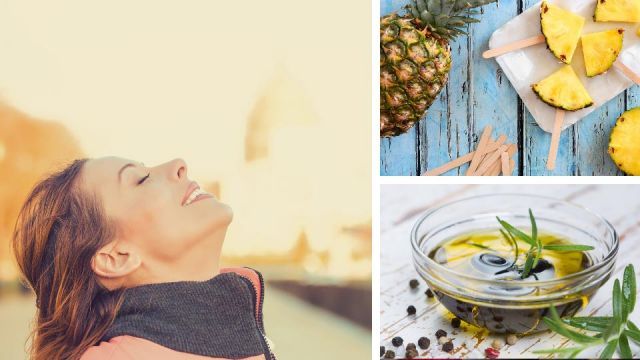 "Breath is the finest gift of nature. Be grateful for this wonderful gift," says Amit Ray, the Indian author who has spent a lifetime advocating yoga, meditation and other spiritual practices.
Breathing is so fundamental that we hardly need to think of it, but when it is impaired, it's hard to think of anything else. Unfortunately, respiratory ailments like asthma, COPD and bronchitis are all too common these days. Air pollution, allergic triggers, genetic factors and lifestyle choices (such as lack of exercise, poor diet and smoking) can cause or exacerbate diseases of the lung.
Fortunately, there are well-established natural ways of promoting respiratory health. After all, lung function is influenced not just by the air you breathe, but also by the foods you eat.
In fact, many herbs, spices, teas, fruits and vegetables are packed with phytonutrients that can help expel excess mucus, counteract lung inflammation and neutralize oxidative stress (which can undermine lung health on the cellular level). With all this in mind, here are five of the best foods and teas you can consume to breathe easier.
1. Oregano
You've probably heard about the benefits of taking oregano oil at the first signs of a cold or flu. In fact, the spice contains a powerful array of nutrients that support immunity broadly, as well as potent antimicrobial compounds that can neutralize bacteria and other microorganisms.
The herb also contains natural decongestants like carvacrol and rosmarinic acid, which can help thin out excess mucus and improve airflow. You can add freshly chopped oregano (or the dried spice) to homemade chicken soup for a natural remedy that's safe and effective for treating cold, flu and bronchitis symptoms. Similarly, adding two to three drops of oregano oil to your vaporizer can help alleviate nasal congestion and combat lung infections.
2. Pineapple
Pineapple is a fruit loaded with bromelain, which is a natural enzyme that helps the lungs flush out toxins. In addition to helping reduce mucus and phlegm, bromelain is a natural anti-inflammatory compound that can combat sinus infections while promoting lung health more broadly.
Here's a quick and easy recipe for a tropical smoothie that can help you breathe easier. By the way, by adding peppermint oil you'll be getting the throat soothing and vapor relief of methanol too.
Ingredients:
1 cup organic orange juice

1/2 cup fresh 

lemon juice

1 tbsp raw honey

1 piece of ginger (peel removed)

1/4 tsp cayenne pepper

1/2 cup chopped pineapple

1 tbsp coconut oil

1 tsp peppermint oil
Instructions:
Mix ingredients in a blender or food processor.

Serve chilled.
3. Turmeric
Studies have shown that compounds in turmeric (most notably curcumin) can help reduce inflammation related to COPD. Indeed, one study even suggested that turmeric has the potential to inhibit and slow the progression of lung cancer. Other lung-healthy herbs and veggies include ginger, garlic and onions.
Here's a turmeric tea recipe that can help you clean and detox your lungs:
Ingredients:
2 cups water

1/2 tsp ground turmeric

Honey to taste

Lemon to taste

Black pepper (optional)
Instructions:
Boil water in a saucepan.

Add 1/2 teaspoon of ground turmeric and reduce stove heat so that your brew simmers for 10 minutes.

Strain the tea through a fine sieve into a cup

You can add

honey

and lemon to taste.

You can also add a pinch of black pepper to the increase nutrient absorption.
For a more elaborate turmeric/ginger tea recipe, you can check out the following cool video.
4. Garlic
Garlic is loaded with a compound called allicin, which is a natural antibiotic and anti-inflammatory agent. Traditionally, the herb has been used to treat asthma and other respiratory ailments. Now, modern research confirms that it can alleviate breathing problems in two ways.
First, garlic helps break down histamine, which is the chemical the body produces in response to allergic triggers. Second, garlic stimulates the production of prostacyclins, which are compounds that help keep the airways open.
Here's a quick recipe for making your own asthma-fighting garlic milk.
Ingredients:
8 garlic cloves

1 cup organic milk
Instructions:
Peel and crush about 8 garlic cloves.

Add 1 cup of organic milk to a saucepan.

Add the crushed garlic to the milk and bring mixture to a boil while stirring constantly.

Once the mixture begins to boil turn off heat and strain milk into a mug.

Allow it to cool for a few minutes before enjoying.
5. Olive oil
According to recent research, scientists believe a compound in olive oil called oleic acid helps the body cope with the kind of physical stress that air pollutants cause. As Dr. Norman H. Edelman, Senior Scientific Advisor for the American Lung Association explains, "[Oleic acid] helps fight the primary effects of pollutants, which is inflammation and the bad molecules that come from inflammation, which are the oxidants."
For a breath of fresh air, try this salmon recipe that uses lung-healthy ingredients including olive oil, garlic, oregano,  pepper and vitamin C-rich lemon juice!
Ingredients:
1  pound salmon

2 tsp olive oil

2 tbsp organic lemon juice

2 cloves garlic, minced

1/2 tsp salt (optional)

1/4 tsp black pepper

1/4 tsp oregano

1/4 crushed red pepper

1 tbsp chopped parsley
Instructions:
Preheat oven to 375 degrees Fahrenheit.

Line a baking sheet with foil. The piece of foil should be big enough to fold over and seal the fish.

In a medium-size bowl, add lemon juice, olive oil, and garlic. Mix everything together.

Place salmon on a prepared baking sheet.

Season with salt, pepper, oregano and red pepper flakes.

Fold the sides of the foil over the salmon. Make sure everything is fully sealed.

Bake salmon until cooked for about 20 to 25 minutes.

Open the foil and broil the fish for an additional two to three minutes. Be careful not to burn or overcook.

Remove from the oven. Garnish with fresh parsley.
FREE BOOK: 4,000-Year-Old Ancient Secret to Help You Fight Dangerous Inflammation =>
— Scott O'Reilly