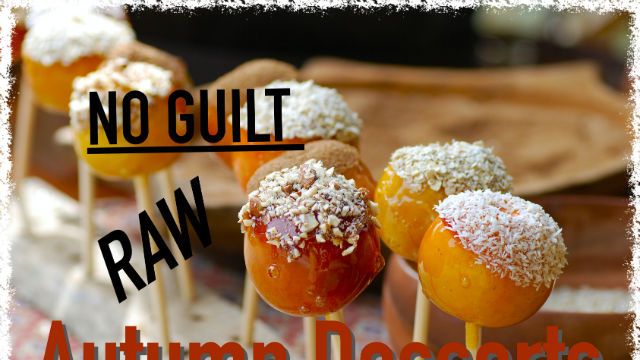 If you're craving a delicious fall dessert but have decided to go raw, you'll find a surprisingly abundant number of amazing options that will allow you to have your cake, so to speak, and eat it too! As always, using organic ingredients as much as possible will result in a healthier dessert minus those unwanted toxins.
Apple Crumble
Ingredients:
1 cup walnuts
½ cup pitted, packed dates
½ cup shredded coconut
⅓ cup ground oat groats
¼ teaspoon pure vanilla extract
6 large Granny Smith apples, peeled, cored and quartered
4-6 medjool dates
2 teaspoons freshly ground cinnamon
Sea salt
In a food processor, grind walnuts, dates, coconut, oat groats and vanilla together into a crumbly but moist texture. To make it easier to press the mixture together into a crust, add 1-2 teaspoons of water. For the filling, pulse 4 of the apples into small chunks and then transfer to a mixing bowl. Process remaining apples with dates and a dash of sea salt until smooth, with an applesauce-like texture.
Mix together, spread into the bottom of a 9×9″ pan and sprinkle the crumble on top.
Heavenly Spiced Carrot Cake
Ingredients for the cake:
7 carrots, peeled and grated
2 cups Brazil nuts, ground into meal
2 cups flax seeds, ground into meal
1 cup raw honey
1 cup shredded coconut
1 cup cranberries
3 tablespoons psyllium husk powder
1 teaspoon pure vanilla extract
1 tablespoon allspice
1 teaspoon freshly ground cinnamon
1 teaspoon freshly grated nutmeg
1 teaspoon sea salt
2 drops Thieves essential oil (a blend of clove, lemon, cinnamon, eucalyptus and rosemary)
Ingredients for frosting:
1 cup raw cashews, soaked in 1 cup water for 4-6 hours
1 tablespoon freshly squeezed lemon juice
2 tablespoons unrefined coconut oil
1 cup raw honey
2-3 drops of Christmas Spirit essential oil (a blend of orange, cinnamon and spruce)
Pinch of sea salt
To make the cake, mix together all cake ingredients except psyllium. Then add the psyllium and mix again. Press the batter into a cake pan, pressing down to shape. Allow to sit for one hour before applying frosting to the top.
To make the frosting, blend all frosting ingredients in a blender, using much of the soaking nut water as needed to result in a smooth and creamy texture. You may need to adjust to taste. Spread over the cake and refrigerate until set, for about one hour. When ready to serve, sprinkle cake slices with finely chopped walnuts and a dusting of cinnamon.
Pumpkin Pie Cheesecake
Filling ingredients:
1½ cans pumpkin puree (15 ounce cans)
2 cups raw cashews
½ cup maple syrup
2 tablespoons unrefined coconut oil
1 tablespoon pumpkin pie spice
Pinch of sea salt
Crust ingredients:
1 cup dates, pitted and chopped
1 cup raw almonds, ground
1 cup raw walnuts, ground
½ cup hazelnuts, ground
½ cup shredded unsweetened coconut
1 teaspoon pumpkin pie spice
¼ teaspoon freshly grated nutmeg
Pinch of sea salt
Combine all ingredients in a food processor or high speed blender until well-combined. This should result in a texture that's chunky and sticky like dough. You should be able to squeeze it in your fingertips to create a firm crust. In a spring form tart pan, pour the crust mixture into the bottom and spread evenly. Firmly press into and around sides of pan, until you have a thick bottom layer. Place in the freezer for at least 3 hours.
In the meantime, make your filling by combining the filling ingredients in a high speed blender, starting with the cashews first. Place mixture into a small bowl and refrigerate. When the crust is done, pour the filling mixture into the pan using a spatula to spread it evenly. Then, place the entire pie into the freezer for at least 2 hours before serving. When ready to serve, thaw at room temperature for about 30 minutes, it should be thick, creamy and cool but not frozen.
Traditional Raw Pumpkin Pie
If you want a traditional, but raw, pumpkin pie, this one gets better with age. If you have time, chill it in the refrigerator for 2 days before serving. It will keep for 7-9 days refrigerated.
Crust ingredients:
1 ½ cups raw almonds
⅔ cup raisins
¼ cup shredded coconut
1-2 teaspoons pure vanilla extract
To make the crust, grind almonds into a flour in your food processor. Add raisins and continue grinding until broken down. Add coconut and vanilla, grinding again to incorporate. If necessary, add ½ to 1 teaspoon of water to keep the mixture held together when pressed in your hand. Then, press into the bottom of a pie plate.
Filling ingredients:
2 cups 1″ cubed pie pumpkin
¾ cup pitted dates
5 tablespoons raw almond milk
1 teaspoon freshly ground cinnamon
1 teaspoon pure vanilla extract
½ teaspoon pumpkin pie spice
4 tablespoons melted unrefined coconut oil
In a high speed blender, combine pumpkin, almond milk, spices and vanilla, until it becomes a liquid. Add the dates and blend again until smooth. The mixture should be slightly warm (from the high speed blending), so at this point add the coconut oil and blend to incorporate. Spread filling into the crust and chill for at least six hours, or ideally for 2 days, to help the flavors to meld.
Caramel Apples
2 cups pitted medjool dates, soaked in water for 4 hours
¼ cup raw almond or cashew butter
4 teaspoons freshly squeezed lemon juice
Pinch sea salt
1 teaspoon pure vanilla extract
6-8 small apples, very small sliver of bottoms cut off to steady
Popsicle sticks, stuck down the core of the apples
Coconut flakes, optional for coating
Chopped almonds, optional for coating
Preheat oven to very lowest setting. To make the caramel, drain dates and add to your blender along with the raw nut butter, lemon juice, salt and vanilla, blending until very smooth. Next, either line a baking sheet with parchment paper, or if you have one, place a silpat on the baking sheet, and spread the caramel mixture into a thin layer, using a dough scraper to even the surface. Put into the oven and leave the door open, letting the caramel dehydrate for about 2 hours, or until the surface of the caramel is dry. Once it's been dehydrated, remove from the oven and use a dough scraper to cut caramel into rectangles. Remove gently from baking sheet using dough scraper. As much as possible, lift the caramel off the sheets instead of scraping it off in order to retain shape and consistency. Apply to the surface of each apple, and then, if desired, roll in coconut and/or almonds.
-The Alternative Daily
Sources:
http://www.sweetlyraw.com/2011/10/autumn-delight-recipes.html
http://experienceraw.com/autumn-spiced-carrot-cake-recipe
http://www.nutritionstripped.com/raw-pumpkin-pie-cheesecake
http://40aprons.com/raw-caramel-apples
http://www.sweetlyraw.com/2012/11/raw-pumpkin-pie.html