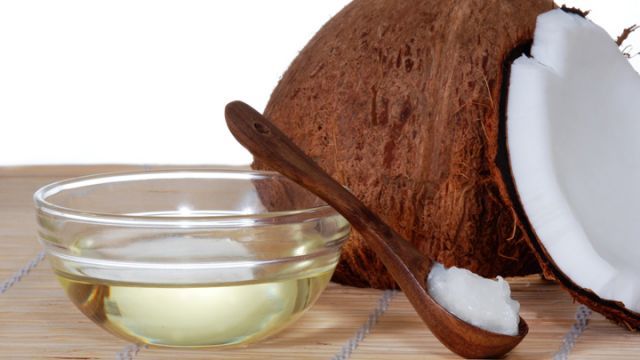 Coconut oil. You know, that clear stuff that smells like coconuts (unless you get the refined stuff, but why would you ever want to do that!?). Coconut oil turns hard when it cools below room temperature, and has a certain inherent sweetness that goes nicely in baking. You might have a jar of it in your cupboard, gathering dust. You may bust it out occasionally to do some Asian-style cooking, or when you want to bake a few healthy muffins.
Well, it's time to dust off that jar and start making it a very big part of your life, because there's a whole world of health benefits that coconut oil can provide, and chances are you haven't heard of many (or any!) of them. Here are four wonderful things you'll probably appreciate learning about that dusty jar of coconut oil in your cupboard.
1. Use it as a moisturizer
Coconut oil can literally replace every single moisturizer, exfoliator, and toner you have. It's a one-stop skincare shop due to the fact that it possesses the very useful ability to penetrate deep into the layers of the skin. It absorbs into the skin quickly and efficiently, leaving very little oily residue, hydrating dry or cracked areas, and encouraging the skin to produce collagen, which helps to keep skin elastic and wrinkle-free.
What's more, it smells freakin' amazing, and it doesn't matter if you end up with some left on your hands — just put it in your mouth! Coconut oil is really good for you internally as well, so your digestive system will be just as thankful as your epidermis.
2. Use it as a carrier oil
If you're serious about your health, you've probably invested in at least a few bottles of essential oil. Whether it's the super-versatile lavender essential oil or the headache-curing peppermint essential oil, there's an oil for just about every occasion.
The thing is, though, your skin isn't always able to tolerate these super-concentrated plant oils. Certain oils may irritate your skin if applied directly without a carrier oil. Many companies make a small fortune selling these carrier oils to accompany their essential oils. Happily, you don't need to invest in a specially packaged carrier oil to get the same effect. Coconut oil can fulfill the same role: diluting the essential oil to ensure your skin doesn't get irritated. The skin-penetrating powers of coconut oil also ensure the essential oil works its magic.
3. Use it to style and care for your hair
It's a sad fact that most conventional hairstyling and care products are absolutely loaded with toxic chemicals and unpronounceable ingredients that are bad news for your health. Many of these common ingredients have in fact been linked to serious diseases and health conditions, so it's time to put down your jar of wax or can of hairspray and seek out something a little more nurturing for your hair and health.
Once again, all you need for your hair is coconut oil. After showering in the morning and before his hair dries out, my boyfriend rubs some coconut oil between his hands to warm it up, then gently massages it into his hair to give it texture and to style it into whatever whimsical fashions he desires. It works great in the summer, but even better in the winter. As soon as he walks outside into the cold, the coconut oil hardens and keeps his hair from being moulded to the will of the winter wind (alliteration intended). I also use coconut oil to add some body to my hair and keep it hydrated and protected from the sun.
4. Use it as a massage oil or lubricant
Why not finish things off with something a little more racy? If you're planning on spicing things up a little in the bedroom and massaging your partner into a state of heightened arousal (or relaxation, depending on your goals), coconut oil makes an excellent massage oil. Unlike many oils, it is solid below room temperature, meaning it's not overly messy. However, it can be easily warmed up between your hands or once you start massaging it into your partner (or yourself, if you're going solo). The bonus is it smells amazing, conjuring up the alluring fragrance of the Caribbean, and it doesn't contain the nasty fake perfumes many other massage oils have.
The same reason coconut oil is great for massaging also makes it a good lubricant (you know what I'm talking about!). It's free from petroleum, parabens, perfumes and other harmful compounds, and it doesn't stain the sheets — you can get as creative as you want without making a mess!
Of course, those aren't the only things that coconut oil is good for. Click here to find out how oil pulling with coconut oil can dramatically improve your oral health AND detoxify your body.
—Liivi Hess