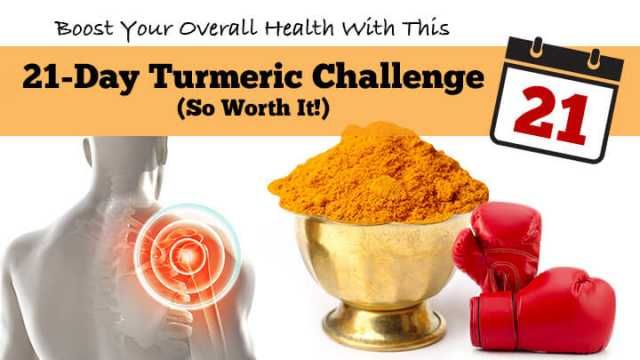 Turmeric is all the rage right now, but many of us don't quite know how to squeeze this golden, health-boosting spice into our everyday lives. With this 21-day turmeric challenge, you'll see just how many ways you can incorporate it into your daily routine. Your body and mind will thank you! 
This superstar spice is gaining quite a following in the alternative health community and beyond. Researchers from all over the world have studied this ancient Indian spice for it's powerful, seemingly endless list of beneficial properties. In fact, turmeric has been featured in more than 5,600 studies to date, with new findings coming out regularly.
Turmeric fights inflammation
Turmeric's active compound, curcumin, is perhaps best known for its ability to reduce inflammation in the body. This is vital, as inflammation affects every aspect of your health. While a little bit of inflammation is a good thing (it protects your body from harmful stimuli), chronic inflammation is dangerous. A sedentary lifestyle and poor diet can create chronic inflammation, which is linked to serious conditions like:
Colitis
GERD
Heart attack
Kidney failure

Psoriasis

Rheumatoid arthritis

Stroke
Researchers have found that chronic inflammation is present in nearly every major illness plaguing Americans today. It even plays a role in disorders you wouldn't think of, like depression. Clearly, we could all use a little less inflammation in our bodies. Luckily, we have turmeric.
Turmeric's additional properties
In addition to fighting off inflammation, turmeric's chemical compounds act as antioxidant, antiseptic, antifungal, antimicrobial and antibacterial agents. Researchers have found that turmeric can fight aging, boost the immune system, aid in wound healing, eliminate parasites, cleanse the skin, detoxify the liver and even boost mood. The list goes on and on.
The combined power of turmeric and black pepper
Turmeric and black pepper go together like peanut butter and jelly. But it's not just that they taste great when mixed, there's a scientific reason for it. Black pepper's main compound — piperine — increases curcumin absorption. In other words, it can help enhance your body's ability to process and use turmeric for all that it's good for. 
Make sure to include black pepper in your daily regiment when completing the turmeric challenge. Ready? Let's go!
Day 1: Smoothie
It may seem a little counterintuitive to sprinkle a hearty spice into a green smoothie, but this is a great way to incorporate turmeric into your diet, especially if you're not used to the taste just yet. Plus, green smoothies can help aid weight loss, promote digestion and boost your energy.
Day 2: Golden milk
Try this golden milk recipe right before bed — it will have you nodding off to sleep in no time. Blend 1 cup milk (or coconut milk), 1/2 teaspoon of turmeric, 1/2 teaspoon of cinnamon, 1/4 teaspoon of black pepper, 1/2 teaspoon ground ginger powder and 1 teaspoon raw honey (or maple syrup). Once blended smooth, heat up the mixture in a saucepan for five minutes until warm. 
Day 3: Indian spice rub
Get inspired by Indian cuisine and cook organic, free-range chicken (or any lean meat) with turmeric and cumin in the mix. Here's a great combination to try! Combine extra virgin olive oil, garlic powder, cumin, paprika, turmeric, black pepper and chili powder in a bowl. Next, rub it onto your chicken and bake like normal. Top it off with lemon juice. Your whole house will smell delicious.
Day 4: Not-so-boring eggs
If you eat eggs every day to boost your protein profile, perhaps they're becoming a bit dull. Time to mix it up! Try sautéing your eggs with red onion, garlic, black pepper and a generous spoonful of turmeric. Who knew something so simple could be so delicious? Make sure you choose organic, cage-free eggs to get the most bang for your buck.
Day 5: Blemish-fighting face mask
Oh, did you think you would only be eating turmeric? No way! It's too good not to throw into homemade beauty and health treatments — and here's one of our favorites. If you struggle with acne, you'll love this refreshing face treatment. Combine 1 teaspoon turmeric, 1 teaspoon sandalwood powder and juice from 1/2 a lemon. Combine in a small bowl, apply it to your face, wear for 10 minutes and rinse off with warm later. Easy peasy!
Day 6: Rosemary potatoes
This staple goes well with just about everything, especially during the cooler months of the year. Combine olive oil, rosemary, garlic, turmeric, black pepper, pink Himalayan salt and cayenne pepper in a bowl. Coat your potatoes with the spice mix and cook them any way you like — steamed, baked or sautéed. If boiling, cook potatoes first then add spice mix on top once drained. Done!
Day 7: Homemade mustard
Sauce is life, right? Here's a new one to add to your fridge. Wholegrain mustard seeds can help boost your thyroid, prevent cancer and reduce inflammation — a whole lot like turmeric. Combine 1/2 cup wholegrain mustard seeds, 2 tablespoons white wine vinegar, 1 tablespoon water, 1 teaspoon turmeric, 1/4 teaspoon black pepper and 1 teaspoon salt in a jar. That's it! Apply generously to your favorite foods.
Day 8: Yellow rice
If you're watching your carb or gluten intake, organic brown rice makes a great base for meals. It's an easy way to modify your diet without compromising on taste. It also contains protein, calcium, fiber, magnesium, potassium and selenium, which helps reduce the risk of heart disease. Add 1/2 a teaspoon of turmeric for every cup of brown rice and take your dinner up a notch — both in nutrition and color! Also experiment with thyme, onion powder, garlic, chili flakes and bay leaf.
Day 9: Hot coconut drink
Feel a cold coming on? Give this immune-booster a shot. Start by cooking 1 cup of full-fat coconut milk until warm. Next, stir in 1 teaspoon turmeric, 1 teaspoon cinnamon, 1 teaspoon raw honey, 1/2 teaspoon black pepper and 1/2 teaspoon cayenne pepper. That ought to clear up your sinuses! Even if you're not sick, go ahead and give it a try. You'll get plenty of benefits from the ingredients.
Day 10: Toothpaste
We're still scratching our heads on this, but somehow a gritty yellow paste can actually make your teeth look whiter. Simply brush your teeth with 1/8 teaspoon of turmeric and a bit of water. Then, let it sit on your teeth for five minutes. Rinse and reveal those pearly whites. You can also try adding baking soda, lemon juice or coconut oil to the mix — they are other known teeth whiteners. 
Day 11: Morning elixir
Lemon and honey go a long way in the morning, helping to prep your gut for digestion and alkalizing the body. Add in turmeric and you've got a proper detox. Start the day off right and combine 1 cup of water with juice from 1/2 a lemon, 1/2 teaspoon turmeric, 1/4 teaspoon black pepper and 1/2 teaspoon raw honey. Enjoy!
Day 12: Turmeric bombs
Researchers have discovered that turmeric can be as effective as over-the-counter pain relievers, like ibuprofen. So if you're experiencing pain and you're in need of on-the-go inflammation-fighters, these charming yellow bombs are just the ticket. Form a paste with 1/3 cup turmeric, 3 tablespoons raw honey, 1 tablespoon coconut oil, 5 drops black pepper essential oil and 5 drops ginger oil. Roll into balls the size of marbles and place in the freezer to harden. There you go! Eat a couple a day, as needed.
Day 13: Pumpkin cookies
If you've got a sweet tooth, no worries, we've got your back. Try this vegan fall harvest cookie recipe and sneak in 1 to 2 tablespoons of turmeric and a pinch of black pepper. The recipe contains only wholesome, nutritious ingredients, like banana, oats and pumpkin. Plus, it's free of unhealthy refined sugars, so you can avoid the insulin boost and crash later on. These treats are packed with nutrients and fiber, keeping you fuller for longer. Who knew a cookie could be so healthy? 
Day 14: Salad dressing
If you're trying to cut back on your caloric intake in between holiday parties, a colorful salad is the way to go. And delicious salad dressing is the key. Rather than a store-bought variety filled with processed junk and preservatives, try this homemade recipe for a natural kick of flavor. Combine 1 teaspoon turmeric with 1/3 cup olive oil, juice from 1/2 a lemon, pinch of sea salt, 1 teaspoon apple cider vinegar and 1 teaspoon raw honey. Yes, even kale will taste delicious with this dressing.
Day 15: Moisturizing foot cream
You're on your feet all day, why not give them some love? If they're cracked and sore, this all-natural cream will keep your feet supple. Combine 3 teaspoons of turmeric for its antifungal properties with 1 teaspoon of coconut oil for some much-needed moisture. Make a paste, rub on your feet, leave for 15 minutes, then rinse off. See? Good as new.
Day 16: Bulletproof coffee
Don't worry coffee lovers, we haven't forgotten about you. If you haven't heard of "Bulletproof Coffee," we've got a fun recipe for you to try. This type of coffee features some form of saturated fat, usually grass-fed butter. Not only does it taste delicious, people swear by its ability to improve focus, control appetite and slow down the effects of caffeine. Brew your coffee as you normally would, then add 1/4 teaspoon of turmeric, 1/2 teaspoon cinnamon and 1 tablespoon of coconut oil. And away you go!
Day 17: Zesty popcorn
Air-popped popcorn is a great midday snack to keep you away from sugar-laden, processed foods, but sometimes it can taste a little bland. Not anymore! Sprinkle 1 teaspoon turmeric with a 1/2 teaspoon of sea salt and a dash of black pepper over a bowl of popcorn. If you're feeling fancy, you can even add a hint of garlic powder. Yum!
Day 18: Hearty carrot soup
Cold outside? There's nothing like a big helping of vegetable soup to help get you through winter — and keep off extra pounds! Add 2 tablespoons of turmeric to your favorite soup recipe for a hint of earthy flavor. If you need some inspiration, try this recipe:
Heat up 4 tablespoons of coconut oil in a pot. Add in 1 teaspoon coriander seeds, 3/4 teaspoon mustard seeds, 2 teaspoons turmeric and 1 tablespoon ginger. Add 2 cups chopped onions, 6 cups vegetable broth and 5 cups carrots to the pot. Cook for 30 minutes. Pour contents into a blender and voilà! Easy, delicious soup.
Day 19: Citrus tea
Today's recipe is simple but oh-so-beneficial. Oranges are a natural source of energy with a healthy dose of vitamin C, which is great if you've been feeling a bit run down. Oranges can also prevent constipation and keep your body's pH levels in check, like lemons. Bring water to a boil, add 1 teaspoon of turmeric with a 1/2 teaspoon of black pepper. Simmer for 10 minutes. Add juice from 1 lemon, juice from 1 orange, a 2-inch ginger root and raw honey to taste.
Day 20: Dog treats
If your beloved canine pal is starting to show symptoms of arthritis, or you played one too many rounds of fetch, give them a turmeric-based dog treat to ease inflammation. With peanut butter and blueberries, your dog will enjoy every nutritious bite. You can find the recipe here.
Day 21: Stretch mark treatment
If you're a new mom or just trying to get rid of those pesky scars, try this potent remedy. In a small bowl, mix 1/2 teaspoon of turmeric with 1 teaspoon gram chickpea flour (or garbanzo flour). Slowly add 1 tablespoon of raw milk or yogurt to a bowl. Combine until it forms a thick paste. Rub it on your stretch marks, leave on for 20 minutes, then rinse off. Apply up to three times per day, as needed. Bye, bye stretch marks!
Turmeric belongs in your everyday life
See? Getting turmeric into your daily routine wasn't that hard, right? Whether sprinkled on your vegetables, blended into a smoothie or rubbed onto your skin, turmeric is truly a convenient addition to your life. There's no reason not to keep going with the turmeric challenge! Give this wonder ingredient a place on your spice rack all year round.
Did we miss any interesting recipes? What's your favorite way to enjoy turmeric? Let us know how the turmeric challenge went for you.
Discover 5 Ways Turmeric BEATS Prescription Drugs =>
— The Alternative Daily